The NBA has formally announced the All-NBA First, Second, and Third Teams for the 2018/19 season, with Giannis Antetokounmpo and James Harden leading the way as the two unanimous selections for the First Team.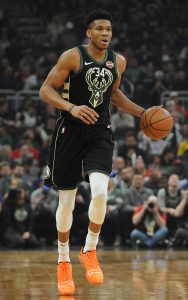 The full All-NBA teams are listed below, with their vote totals in parentheses. Players received five points for a First Team vote, three points for a Second Team vote, and one point for a Third Team vote, so Antetokounmpo and Harden scored a perfect 500 — First Team nods from all 100 voters.
All-NBA First Team
All-NBA Second Team
All-NBA Third Team
As we detailed in March, this year's All-NBA selections have significant financial implications for several players. Here's a breakdown of how several All-NBA candidates were impacted:
Beal and Thompson received the most All-NBA votes of any guards who missed out on the All-NBA teams, receiving 34 and 27 points respectively. Sixers guard Ben Simmons got seven points, while no other guards had more than four.
LaMarcus Aldridge (Spurs) and Danilo Gallinari (Clippers) were the runners-up at forward, receiving 17 and seven points, respectively. Pascal Siakam (Raptors) had four points, while no other forwards had more than three.
At center, Towns received 20 points, followed by Vucevic at four and Pistons center Andre Drummond with three.
Interestingly, the 15 players named to the All-NBA teams for 2018/19 were the same 15 players that Hoops Rumors readers voted for in our end-of-season All-NBA polls last month. The only differences were George swapping places with Durant and Irving flipping spots with Westbrook.
The full and official All-NBA voting results can be found right here.
Photo courtesy of USA Today Sports Images.