Since being reborn in 2004 as the Bobcats, Charlotte's NBA team – now the Hornets – has failed to win more than 48 games or advance past the first round of the postseason. Improbably, the 2018/19 season represented the first time during that stretch that the Hornets had even finished higher than third place in the Southeast. Unfortunately for Charlotte, that spoke more to the weakness of the division than the strength of the Hornets, as the team still missed the playoffs for a third straight season.
Entering the 2019 offseason, the Hornets find themselves at a crossroads. Given the organization's struggles in recent years – and its inability to build a legit contender over the last 15 seasons – it might be time to blow things up and attempt another rebuild. However, it remains to be seen if ownership and management are ready to go down that road.
Here are five key questions facing the franchise this summer:
1. Is this the end of the Kemba Walker era in Charlotte?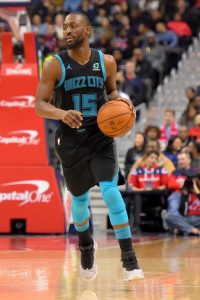 Walker was the subject of trade rumors leading up to the 2018 trade deadline, but the Hornets overhauled their front office shortly thereafter and talk of dealing Kemba died down. He and the team said all the right things, with both sides expressing interest in a long-term union. There's no reason to think that either side was lying or that that interest doesn't still exist, but it's hard to make the case that this remains the right fit.
Walker has long been the face of the Hornets, but he's about to become eligible for a five-year contract worth up to nearly $190MM — or $221MM, if he earns All-NBA honors. Charlotte has had a hard enough time building around Walker while he has been on one of the most team-friendly contracts in the NBA ($12MM annually). Paying him upwards of three times that much as he prepares to enter his age-29 season could hamstring the team's financial flexibility for the rest of Kemba's prime.
As for Walker, he was probably miscast as a franchise player in Charlotte, but he has done all he could over the last eight years to try to turn the Hornets into a winner. It hasn't worked out, and if he wants to look elsewhere for a better situation for contending, no one would blame him. The Charlotte Observer's editorial board even encouraged the Hornets to let him do just that.
It will be fascinating to see how this situation plays out in July. Some ill-advised investments elsewhere on their roster have put the Hornets in a sort of no-win situation here. If they re-sign Walker, they won't have the cap flexibility necessary to get him the help he needs. But if they let him walk, they may not have enough attractive assets on hand to jump-start their rebuild. It could be years before they sniff the postseason again.
2. Will the Hornets be able to shed salary?

Assuming Marvin Williams and Michael Kidd-Gilchrist exercise their respective player options, the Hornets will be on the hook for more than $85MM next season for a five-player group that also features Nicolas Batum, Cody Zeller, and Bismack Biyombo.
If the Hornets bring back Walker and want to become a serious playoff contender, upgrading some of those spots will be a must. Those aren't necessarily bad players, but Charlotte should be able to get more bang for its buck, given the money it's spending on them.
Williams, Kidd-Gilchrist, and Biyombo will be on expiring contracts, while Batum and Zeller will each have two years left on their deals. The expiring trio would be easier to move, particularly if the Hornets are willing to attach draft-pick sweeteners and/or take on multiyear money. Creating cap room this offseason by dumping those contracts outright is extremely unlikely, but there could be some solid players available on the trade market if Charlotte is willing to take on future salary and surrender draft picks.
On the other hand, if Walker doesn't return and the Hornets go into rebuilding mode, trimming salary becomes less of a priority. In that scenario, it makes more sense for the club to bide its time and wait for those expensive contracts to expire. By 2021, the Hornets' cap would be mostly clear and they'd have spent a couple years collecting young talent, putting the team in position to make use of its newfound cap flexibility in the next stage of its rebuild.
3. Will Jeremy Lamb be re-signed?

Walker isn't the only key contributor on Charlotte's roster facing unrestricted free agency. You could make a strong case that Lamb was the second-most important Hornet in 2018/19. He was, at least, the team's second-leading scorer, with his 15.3 PPG topping the club's third-leading scorer by more than five points per game.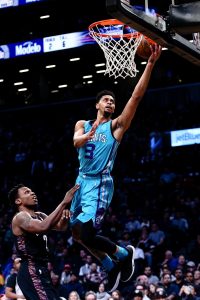 The former UConn standout has really come into his own in the last two years after struggling to find his footing during his first few NBA seasons. Over his last two seasons, Lamb has shown he can knock down outside shots (.358 3PT%) and make the occasional play as a ball-handler (2.3 APG). If the Hornets don't bring him back, he'll be missed.
Still, it wouldn't surprise me if Lamb ultimately ends up elsewhere. He's likely in line for a mid-level type deal this offseason. If Walker is back, money will be tight for the Hornets, and if Walker doesn't return, an investment in a role player like Lamb may not be the best use of the team's resources.
4. How will the Hornets use the No. 12 pick in the draft?

Whether or not they re-sign Lamb – a former 12th overall pick – the Hornets will have to figure out how best to make use of this year's No. 12 selection.
Assuming Charlotte keeps the pick rather than using it in a trade, there's no specific position for the team to lock in on — the Hornets could use talent at any spot, particularly if Walker departs.
Recent mock drafts from both ESPN.com and The Athletic have Kentucky forward PJ Washington heading to Charlotte, which would be an interesting fit. As Rod Boone of The Athletic observes, the team certainly hasn't shied away from selecting Wildcats prospect in recent years, and they could use an athletic forward like Washington, who is capable of scoring on the inside.
Still, Washington is hardly the only player who would be of interest to the Hornets near the back end of the lottery. Oregon center Bol Bol would be an intriguing high-risk, high-reward play. Top international prospect Sekou Doumbouya would give the Hornets length and versatility in their frontcourt. Texas center Jaxson Hayes projects to be a solid rim protector and rim runner in the Clint Capela mold. Gonzaga's Rui Hachimura has stretch-four upside.
Because the draft takes place before free agency, it's possible the Hornets won't have clarity on Walker's future by the time they make this selection, but if their star point guard leaves and the rebuild begins, it's even more important that Charlotte gets this pick right.
5. Will Tony Parker be back?

The longtime Spurs point guard, who signed with the Hornets in 2018, has a second year on his contract with Charlotte but has yet to decide whether or not he'll retire. Parker has said multiple times since the season ended that he's "50/50" on playing vs. retiring, adding that if he returns, he wants his team to at least be in the playoff mix, if not vying for a title.
While Parker's deal with the Hornets is technically a two-year pact, his $5.25MM salary for 2019/20 is non-guaranteed, so even if he decides to keep playing, there's no guarantee that Charlotte would bring him back at that price. In fact, considering he fell out of the rotation down the stretch in 2018/19, even before the Hornets had been eliminated from the postseason chase, I'd be surprised if the team doesn't waive him and avoid that $5.25MM guarantee.
That doesn't mean that Parker can't sign a new contract and rejoin the Hornets for another year, but I'd expect him to explore other options if he hits the free agent market. There should be a number teams closer to contention who'd be willing to bring him aboard for the veteran's minimum, and there's no guarantee that Charlotte would go higher than that.
---
Check out the Charlotte Hornets' offseason salary cap outlook right here.

---
Salary information from Basketball Insiders was used in the creation of this post. Photos courtesy of USA Today Sports Images.