Despite having had Kemba Walker under contract at a rate of $12MM annually for the last four years, the Hornets were unable to build a legit contender around him, loading their cap with long-term, oversized contracts for role players. Now, after another season in the lottery, the Hornets enter the summer with many of those pricey contracts still on their books and Walker headed for unrestricted free agency.
Here's where things currently stand for the Hornets financially, as we continue our Offseason Salary Cap Digest series for 2019: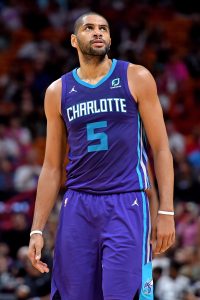 Guaranteed Salary
Nicolas Batum ($25,565,217)
Bismack Biyombo ($17,000,000): Exercised player option
Cody Zeller ($14,471,910)
Malik Monk ($4,028,400)
Miles Bridges ($3,755,400)
Devonte' Graham ($1,416,852)
Total: $66,237,779

Player Options
Team Options
Non-Guaranteed Salary
Restricted Free Agents
Unrestricted Free Agents / Other Cap Holds
Kemba Walker ($18,000,000): Bird rights
Jeremy Lamb ($14,227,907): Bird rights
No. 13 overall pick ($3,826,920)
Shelvin Mack ($1,618,486): Non-Bird rights
Brian Roberts ($1,618,486): Non-Bird rights 4
Joe Chealey ($1,443,842): Non-Bird rights
J.P. Macura ($1,443,842): Non-Bird rights
Marcus Paige ($1,443,842): Non-Bird rights 4
Total: $43,623,325
Projected Salary Cap: $109,000,000
Projected Tax Line: $132,000,000
Offseason Cap Outlook

Realistic cap room projection: $0

If Williams or Kidd-Gilchrist unexpectedly opt out, perhaps the Hornets could carve out a little cap room. But assuming both players return, Charlotte would only be able to get up to about $8.2MM in cap room by renouncing all their free agents and waiving all their players on non-guaranteed contracts. The mid-level exception will be worth more than that, so the Hornets figure to just remain over the cap.
Should the Hornets re-sign Walker to a maximum salary contract, they'll likely have to shed a little salary to stay out of tax territory.
Cap Exceptions Available
Trade exception: $7,819,725 (expires 7/6/19)
Mid-level exception: $9,246,000 5
Bi-annual exception: $3,619,000 5
Footnotes
Parker's salary becomes fully guaranteed after July 4.
Hernangomez's salary becomes fully guaranteed after June 28.
Bacon's salary becomes fully guaranteed after August 1.
Roberts' and Paige's cap holds remain on the Hornets' books because they haven't been renounced after going unsigned in 2018/19. They can't be used in a sign-and-trade deal.
These are projected values. If the Hornets are at risk of going into tax territory, they may forfeit the bi-annual exception and have to use the taxpayer mid-level exception ($5,711,000) rather than the full mid-level exception.
Note: Minimum-salary and rookie-scale cap holds are estimates based on salary cap projections and could increase or decrease depending on where the cap lands.
Salary information from Basketball Insiders and RealGM was used in the creation of this post. Photo courtesy of USA Today Sports Images.