Things seemed to be on the upswing for the Timberwolves in 2017/18, when the team snapped a 13-year postseason drought, winning 47 games and winning a playoff game for the first time since 2004. However, that positive momentum came to a halt last fall, when Jimmy Butler's trade demand disrupted and derailed the Wolves' season before it began.
Butler was eventually traded to Philadelphia, but Minnesota was never really in the playoff hunt in 2018/19, and Tom Thibodeau's handling of the Butler saga ultimately led to his dismissal. Heading into the 2019 offseason, the Wolves now employ a new president of basketball operations (Gersson Rosas) and a new permanent head coach (Ryan Saunders) as the organization looks to get back on track and resume contending for the postseason.
Here are five key questions facing the franchise this summer:
1. Which players will Gersson Rosas view as keepers?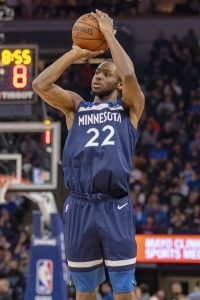 When a team overhauls its front office, that doesn't necessarily mean a roster overhaul will follow. But executives generally have stronger attachments to players that they've drafted, signed, or traded for than the ones they've inherited.
This will be the first time Rosas has decision-making power in an NBA front office. While his long stint in Houston's front office is somewhat instructive, we'll be learning for the first time in the next year or two what sort of players he likes, and which Timberwolves players fit that bill.
The front office changes in Minnesota are unlikely to impact someone like Karl-Anthony Towns, who would be a franchise cornerstone no matter who is running the team. But how invested will Rosas be in players like Robert Covington and Dario Saric? They were the key assets the team received in return for Butler last fall and would still have positive trade value if Rosas isn't attached to them. Assuming he likes them, they could become long-term building blocks for the Timberwolves.
Rosas' evaluation of the players on his new roster will impact young prospects under contract (like Josh Okogie and Keita Bates-Diop) and veteran free agents (such as Derrick Rose and Taj Gibson) alike, so it should be an interesting summer in Minnesota as Rosas gets his first opportunity to oversee a series of roster moves.
2. What does the future hold for Andrew Wiggins?

Of all the Timberwolves players whose futures will be dictated by Rosas' moves, Wiggins is the biggest wild card. The former No. 1 overall pick is under contract for four more years and $122MM+, and given his up-and-down play over the last couple years, there won't be teams lining up around the league to take that contract off Minnesota's hands.
It's unlikely that the Wolves would want to give up the assets necessary to dump Wiggins' salary while his value is at a low point. So whether they want him to be part of the long-term plan in Minnesota or simply want to rebuild his value, Rosas and particularly Saunders will have to work on developing Wiggins into the sort of dynamic two-way wing that many observers expected him to become out of Kansas.
While Wiggins was inconsistent even after Butler's and Thibodeau's respective departures, he showed flashes of upside in the second half. Out from under Butler's shadow, and with Saunders perhaps coming up with more creative ways to utilize him, there's optimism that Wiggins – who is still just 24 years old – has more to give the Wolves. The 2019/20 season represents a huge year for him.
3. Was retaining Ryan Saunders the right call?

Saunders, who was initially named the interim head coach in the wake of Thibodeau's firing, remained in limbo for several weeks after the regular season ended. As the Timberwolves sought a new head of basketball operations, there were rumors that team ownership hoped the eventual hire would retain Saunders as the head coach.
Upon being hired, Rosas briefly opened his own head coaching search, but it didn't last long. Less than a week after word broke that the Wolves were considering outside options, the club officially made Saunders its permanent head coach.
The fact that ownership was pushing for Saunders doesn't mean he wouldn't have been Rosas' pick anyway. And the fact that Minnesota's head coaching search didn't last long doesn't mean that the team didn't do its due diligence.
Still, retaining the 33-year-old, who will be the league's youngest active head coach, is a bit of a risk. Saunders has worked as an NBA assistant for a decade, but he was hired by his late father Flip Saunders in both Washington and Minnesota, his only two stops. Ryan's coaching acumen will be put to the test in a big way over the next year or two, as he'll be tasked with helping young players like Towns, Wiggins, and Okogie reach their full potential.
By all accounts, those players and the rest of the Wolves are fond of Saunders, which is one key reason why he was brought back. Still, the club will need to see on-court success from its young head coach before too long.
4. How will the Timberwolves address their point guard position?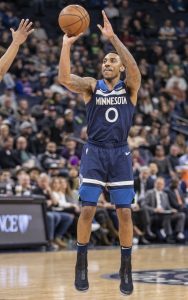 With Jeff Teague, Derrick Rose, Tyus Jones, and Jerryd Bayless all under contract in 2018/19, the Wolves had no shortage of point guards available, though second-half injuries took a toll on the group. Minnesota's outlook at the position is a little murkier going forward.
Bayless, an unrestricted free agent, probably isn't part of the Wolves' future plans. Rose is also an unrestricted free agent, and while Minnesota has expressed some desire to bring him back, I'd be a little surprised if he returns. Thibodeau was the one who brought him into the fold, and it seems unlikely that the club's new decision-makers will aggressively look to retain him if he gets competitive offers from rival suitors.
Jones is a free agent too, albeit a restricted one, assuming the Wolves issue him a qualifying offer. The 23-year-old averaged career-bests in a handful of categories in 2018/19, including PPG (6.9) and APG (4.8), but he struggled with his shot and didn't establish himself as a no-doubt keeper for the franchise. If the Wolves don't face a ton of competition for Jones, they could bring him back on a short-term deal, but it wouldn't surprise me if he's playing elsewhere next season.
That leaves Teague, who will be entering the final year of his contract, which will pay him $19MM in 2019/20. An expiring deal like that could be a useful asset on the trade market, but with the status of the rest of the Timberwolves' point guards up in the air, keeping the veteran around would be the safer play unless he helps net an upgrade. Although Teague's numbers don't jump off the page, his value shouldn't be overlooked — the 36-46 Wolves were 23-19 last season in the 42 games he played.
5. How will the Timberwolves use the No. 11 overall pick?

The Timberwolves fell out of the top 10 in this year's draft when they were leapfrogged by the Lakers, but there's little consensus beyond the top three picks in this year's class, so sliding to No. 11 may not hurt the team much.
With an unsettled point guard situation, the Wolves could look to address that position in this spot, but none of the top PGs in the 2019 class – Ja Morant, Darius Garland, and Coby White – figure to be on the board, and the team shouldn't reach for a lesser prospect by drafting for need over talent.
One intriguing target for Minnesota in this spot would be Gonzaga forward Brandon Clarke, a versatile, defensive-minded big man who should be ready to contribute right away. Both The Athletic and ESPN had Clarke going to the Wolves in their first post-lottery mock drafts.
Jon Krawczynski of The Athletic hints that the Wolves wouldn't necessarily rule out the possibility of moving up a few spots in the draft if a player they like – perhaps someone like White – lasts a little longer than expected.
---
Check out the Minnesota Timberwolves' offseason salary cap outlook right here.

---
Salary information from Basketball Insiders was used in the creation of this post. Photos courtesy of USA Today Sports Images.