After ending a long playoff drought last spring, the Timberwolves took a step backward in 2018/19, as they were forced to move on from one of the players (Jimmy Butler) who helped them reach new heights. With franchise cornerstone Karl-Anthony Towns locked up for the next five years, there's reason to believe Minnesota can have sustained success, but the club might first need to get out from under some pricey contracts for non-stars.
Here's where things currently stand for the Timberwolves financially, as we continue our Offseason Salary Cap Digest series for 2019: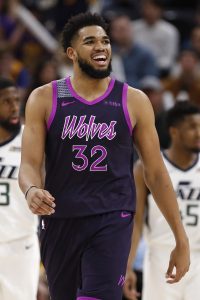 Guaranteed Salary
Andrew Wiggins ($27,504,630)
Karl-Anthony Towns ($27,250,000) 1
Jeff Teague ($19,000,000): Exercised player option
Gorgui Dieng ($16,229,213)
Robert Covington ($11,301,219)
Dario Saric ($3,481,986)
Josh Okogie ($2,530,680)
Keita Bates-Diop ($1,416,852)
Cole Aldrich ($685,340) — Waived via stretch provision
Total: $109,399,920

Player Options
Team Options
Non-Guaranteed Salary
Restricted Free Agents
Tyus Jones ($3,573,205 qualifying offer / $7,332,159 cap hold): Bird rights
Mitch Creek ($1,643,842 qualifying offer / $1,643,842 cap hold): Non-Bird rights
Jared Terrell (two-way qualifying offer / $1,443,842 cap hold): Non-Bird rights 2
C.J. Williams (two-way qualifying offer / $1,443,842 cap hold): Non-Bird rights 2
Total: $11,863,685

Unrestricted Free Agents / Other Cap Holds
Taj Gibson ($18,200,000): Early Bird rights
Jerryd Bayless ($16,294,240): Bird rights
Anthony Tolliver ($6,900,000): Non-Bird rights
No. 11 overall pick ($4,028,400)
Aaron Brooks ($1,618,486): Non-Bird rights 3
Luol Deng ($1,618,486): Non-Bird rights
Derrick Rose ($1,618,486): Early Bird rights
Total: $50,713,098
Projected Salary Cap: $109,000,000
Projected Tax Line: $132,000,000
Offseason Cap Outlook

Realistic cap room projection: $0
Even without accounting for any of their free agents or players on non-guaranteed salaries, the Timberwolves project to be over the cap this summer. They'll go further over the cap if Towns is named to an All-NBA team, which would increase his salary by approximately $5.5MM. In that scenario, they'll probably be more concerned with staying under the tax line than carving out any cap space.
Cap Exceptions Available
Trade exception: $2,667,600 (expires 11/12/19)
Mid-level exception: $9,246,000 4
Bi-annual exception: $3,619,000 4
Footnotes
This is a projected value. Additionally, if Towns earns All-NBA honors, his projected salary would increase to $32,700,000.
The salaries for two-way players don't count against a team's cap, but their cap holds do during the offseason.
Brooks' cap hold remains on the Timberwolves' books because he hasn't been renounced after going unsigned in 2018/19. He can't be used in a sign-and-trade deal.
These are projected values. In the unlikely event the Timberwolves use cap room, they'd lose these exceptions (and their trade exception) and would instead would gain access to the $4,760,000 room exception. Additionally, the Wolves will not be able to use these exceptions if their team salary exceeds the tax apron. In that scenario, they'd instead receive the taxpayer mid-level exception, worth a projected $5,711,000.
Note: Minimum-salary and rookie-scale cap holds are estimates based on salary cap projections and could increase or decrease depending on where the cap lands.
Salary information from Basketball Insiders and RealGM was used in the creation of this post. Photo courtesy of USA Today Sports Images.