One of the NBA's most iconic franchises, the Knicks have also been one of the league's most dysfunctional in recent years. They're set to enter a crucial offseason after having won between 17 and 32 games in each of the last five seasons.
Having been unable to put together a core of promising young building blocks during their on-again, off-again rebuild over those five years, the Knicks will rely on other assets to improve the roster during the summer of 2019. With a handful of extra future first-round picks in hand and more cap room available than any other NBA team, New York theoretically has the resources necessary to sign two maximum-salary free agents and acquire a third one in a trade.
After months of speculation about which players the Knicks might be able to actually land, we'll get our answer in the coming weeks.
Here are five key questions facing the franchise this summer:
1. Will Kevin Durant sign with the Knicks?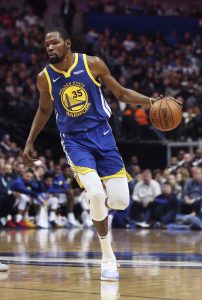 Durant himself has given no indication that he's dead set on leaving the Warriors or that he has a specific destination in mind when he reaches the free agent market this offseason. But based on how the NBA rumor mill works, there's a widespread belief that the Knicks are already preparing to print thousands of No. 35 jerseys for the 2019/20 season. Reports all season from outlets across the county have indicated that NBA insiders expect Durant to end up in the Big Apple.
Whispers of Durant leaving Oklahoma City for Golden State persisted throughout the second half of the 2015/16 season, and the idea that LeBron James would leave Cleveland for the Lakers was a constant source of speculation leading up to his 2018 free agency. Those are just two high-profile examples of why we should take all the rumors linking Durant to the Knicks seriously.
Even in instances where the NBA's rumor mill doesn't necessarily get it right, there can be plenty of warning signs along the way pointing to the eventual outcome. Last summer, for instance, there was a widespread belief that Paul George wanted to join the Lakers, but sourced reports in the weeks and months leading up to his free agency repeatedly stated that the Thunder remained very confident in their ability to re-sign him. If you didn't discount those reports as misguided optimism, you weren't surprised by George's eventual decision to stay in Oklahoma City.
All of this is to say that where there's smoke, there's probably fire — those Knicks rumors are coming from somewhere, and there's reason for New York basketball fans to be excited about the possibility of their team signing Durant.
Still, until Durant puts pen to paper, this is far from a done deal. Since the regular season ended, there have been reports suggesting that uncertainty about Durant's future has increased, along with reports indicating that the Warriors are still getting a sense that KD might stay. If he doesn't choose the Knicks, we could be looking back at those stories as the warning signs we missed.
2. How about Kyrie Irving or Kemba Walker?

Durant's decision is at the top of the Knicks' offseason flowchart — depending on whether or not he signs with the team, the offseason may head in drastically different directions, as that decision will have a ripple effect on the rest of New York's offseason moves.
The point guard question is the second item on that hypothetical flowchart. If Durant decides to play in New York, it seems likely that he'll bring another top free agent along with him, and Irving and Walker look like two of the most logical fits. Kyrie is good friends with KD, while Walker is a New York native who would likely relish the idea of playing his home games in Madison Square Garden.
The Nets, Lakers, Clippers, and other teams – including the Celtics for Irving and the Hornets for Walker – will also be in the mix for these two point guards, and if one of the two commits to another club, the Knicks figure to zero in on the other. But as long as both players are available, it will be interesting to see which one the team pursues more aggressively.
Given his injury history and his drama-filled season in Boston, Irving no longer appears to be as safe as investment as Walker, but his on-court upside is much higher. Plus, if Durant commits to the Knicks and says he wants to team up with Irving specifically, the team probably won't argue with him.
If Durant doesn't come to New York, the Knicks' outlook at this spot gets even murkier. Is it still worth pursing Irving and/or Walker, perhaps to pair with another second-tier target like Jimmy Butler, Tobias Harris, or Khris Middleton? That brings us to our third question…
3. What's Plan B if the Knicks don't land their top free agent targets?

With the Knicks apparently targeting some combination of Durant and either Irving or Walker, their Plan A looks obvious: Sign two of those free agents and trade the necessary pieces to New Orleans for Anthony Davis to secure a new Big Three.
But what if the Knicks only get a commitment from one of their top free agent targets? What if another team outbids them for Davis? The Knicks could find themselves with one established star set to join a group of unproven young prospects, with upwards of $35MM in cap room still available. In other words, they'd be a poor man's version of the 2018/19 Lakers.
At that point, the Knicks would have to decide how best to use that remaining cap room to maximize their chances of contending in the long term.
Could they, as the Lakers did, sign a series of veteran free agents to one-year contracts to fill out the roster and try to contend right away? Would it make more sense to invest the rest of their cap room into a single free agent, even if that player is only a borderline All-Star and wasn't their top target? Or should they go the other direction and take things slow by using their cap room to acquire unwanted contracts and extra assets to try to accumulate even more capital for a future trade for a star?
Free agency will move quickly and these decisions won't be easy, but the Knicks would be wise to avoid massive investments on second-tier free agents. Using cap room to accommodate salary dumps or one-year contracts would be disappointing, but it would at least allow the club to retain its flexibility and take another swing at big targets in a year or two.
4. How strong is the Knicks' Anthony Davis trade package?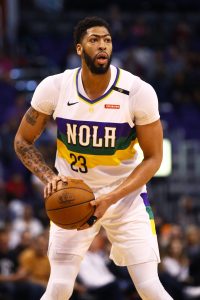 Whether they sign two star free agents or strike out entirely on the open market – or anything in between – the Knicks could make a play for Davis, aiming to secure a long-term commitment from him when he becomes eligible for free agency in 2020.
In theory, the Knicks should have a handful of players who would make good trade chips in an offer for Davis. Of their four players on guaranteed contracts for 2019/20, three (Dennis Smith, Frank Ntilikina, and Kevin Knox) are top-10 picks from the last two drafts, and the fourth (Mitchell Robinson) is arguably a more promising prospect than all of them.
Still, the most intriguing player in a potential Knicks offer might be one that's not actually on their roster yet. With the No. 3 pick in the 2019 draft, the club is in position to select Duke forward R.J. Barrett. Once considered the odds-on favorite to be selected first in this year's draft, Barrett had more ups and downs than expected in his freshman year as part of a Blue Devils roster that lacked outside shooting, and was surpassed on big boards by Zion Williamson and Ja Morant.
Still, Barrett is a potential star who would be on a rookie contract for four years and then would likely be under team control for another four or five. When a club trades away an established All-Star, the winning offer is generally headlined by one player that the club likes more than any other asset available in other offers. There's no guarantee that the Pelicans feel that way about Barrett instead of, say, Jayson Tatum. But if they do, the Knicks would have a real shot at winning the Davis sweepstakes.
5. Which of the Knicks' young players are worth investing in?

If the Knicks' dream scenario – two star free agents and a Davis trade – plays out, this question may be moot. After all, the team would have to trade just about all its young prospects in order to match Davis' salary.
In any other scenario though, the club will have to take a long, hard look at players like Smith, Ntilikina, Knox, Damyean Dotson, Allonzo Trier, and others to determine whether it's realistic to expect them to be part of the Knicks' long-term future.
Those decisions won't have to be made right away in every case, but many of them are due soon. Trier has a club option for 2019/20, while Dotson has a non-guaranteed salary for next season before reaching restricted free agency in 2020. Smith and Ntilikina will be extension-eligible in 2020 if their '20/21 options are exercised.
The 2018/19 season should have been the time to evaluate many of these players, but inconsistent lineups made the outlook murkier than ever for many of them. The point guard rotation, for instance, featured plenty of Emmanuel Mudiay and Trey Burke at the expense of Ntilikina.
While Ntilikina is still just 20 years old and may have untapped potential, he'll reportedly be on the trade block this offseason. If the Knicks are willing to move on from the former No. 8 pick after just two seasons, the clock is ticking on prospects like Knox and Smith as well.
---
Check out the New York Knicks' offseason salary cap outlook right here.

---
Salary information from Basketball Insiders was used in the creation of this post. Photos courtesy of USA Today Sports Images.