There was plenty not to like about the Knicks' 2018/19 season. They lost an NBA-worst 65 games; they traded a potential franchise player, Kristaps Porzingis, to Dallas in a deal primarily aimed at creating cap flexibility and acquiring far-off assets; and young prospects Frank Ntilikina and Kevin Knox looked shaky. Still, there's optimism in New York heading into the 2019 offseason, given the club's two maximum salary contract slots and whispers that top free agents will seriously consider the Knicks.
Here's where things currently stand for the Knicks financially, as we continue our Offseason Salary Cap Digest series for 2019: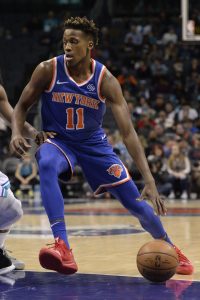 Guaranteed Salary
Joakim Noah ($6,431,667) — Waived via stretch provision
Frank Ntilikina ($4,855,800)
Dennis Smith ($4,463,640)
Kevin Knox ($4,380,120)
Mitchell Robinson ($1,559,712)
Total: $21,690,939

Player Options
Team Options
Allonzo Trier ($3,551,100)
John Jenkins ($1,988,119)
Henry Ellenson ($1,645,357)
Billy Garrett ($1,416,852)
Total: $8,601,428
Non-Guaranteed Salary
Restricted Free Agents
Emmanuel Mudiay ($5,758,898 qualifying offer / $12,883,440 cap hold): Bird rights
Luke Kornet ($2,024,075 qualifying offer / $2,105,038 cap hold): Early Bird rights
Total: $14,988,478

Unrestricted Free Agents / Other Cap Holds
DeAndre Jordan ($27,476,640): Non-Bird rights
No. 3 overall pick ($7,829,880)
Mario Hezonja ($7,800,000): Non-Bird rights
Noah Vonleh ($1,618,486): Non-Bird rights
Isaiah Hicks ($1,443,842): Early Bird rights
Total: $48,083,808
Projected Salary Cap: $109,000,000
Projected Tax Line: $132,000,000
Offseason Cap Outlook

Maximum cap room projection: $73.2MM
This cap projection assumes the Knicks renounce all their free agents, decline their team options, and waive their players on non-guaranteed salaries. It would give the Knicks enough cap space for two maximum salary contracts, assuming at least one of those two players isn't a 10-year veteran.
If the Knicks don't need every cent of their cap room for two max contracts, they may not be quite as aggressive in purging their lower-priced players. If the club were to retain Trier and Dotson, for instance, that would reduce its cap room projection to $69.8MM.
Cap Exceptions Available
Room exception: $4,760,000 3
Footnotes
Thomas' salary becomes partially guaranteed ($1MM) after June 30.
Dotson's salary becomes fully guaranteed after July 15.
This is a projected value. Assuming the Knicks use cap room, they'll lose access to one trade exception ($1,435,750; expires 2/7/20).
Note: Minimum-salary and rookie-scale cap holds are estimates based on salary cap projections and could increase or decrease depending on where the cap lands.
Salary information from Basketball Insiders and RealGM was used in the creation of this post. Photo courtesy of USA Today Sports Images.