The Kings have the NBA's longest postseason drought, having not appeared in the playoffs since 2006. Still, while they were unable to snap that streak in 2018/19, it represented the team's most promising season in years — in fact, Sacramento's 39-43 record was its best mark since that '05/06 campaign.
While breakout years by young building blocks like De'Aaron Fox and Buddy Hield bode well for the Kings going forward, it's not clear that the dysfunction plaguing Sacramento for years is totally behind the organization.
Here are five key questions facing the franchise this summer:
1. Did the franchise make the right call hiring Luke Walton?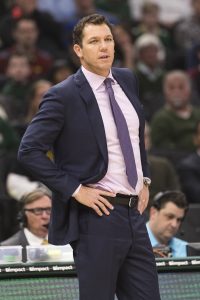 That dysfunction I mentioned in the introduction surfaced during the 2018/19 season in large part due to tension between head coach Dave Joerger and the front office — specifically assistant GM Brandon Williams. There was a disconnect between the two sides on how much playing time veterans and prospects should receive, and Joerger made some comments hinting that he might not have been entirely on board with the Kings' decision to draft Marvin Bagley over Luka Doncic.
By parting ways with both Joerger and Williams, the Kings made an effort to remove that potential discord from the equation entirely going forward. They quickly replaced Joerger with Luke Walton, a coach who received some praise for his work with young players during his early days with the Lakers.
However, the Kings perhaps moved too quickly to lock up Walton. Just a week after they announced his hiring, word broke that he was being sued and accused of sexual assault.
The Kings now found themselves in a tricky situation. Hiring Walton and then dismissing him before he coaches a single game would be a bad look for the franchise, but it would arguably be an even worse look if the team retains him despite finding the claims against him to be credible.
Before determining whether he's the right fit on the court, the Kings will have to do their best to determine whether there's truth to the off-court allegations against Walton, and whether that would disqualify him from keeping the job. The Kings and the NBA are currently investigating the allegations.
2. What will happen with Harrison Barnes?

Barnes finds himself this summer in a situation that's not uncommon for veterans for player options. There's virtually no chance he'll match his $25MM+ player-option salary in 2019/20 if he opts out. But he could definitely exceed that total amount on a longer-term deal.
In other words, if the Kings are prepared to offer him, say, a three-year, $60MM contract in order to lock him up for a few years and to increase their 2019 cap room by reducing his '19/20 cap hit, would that be worth it for Barnes? Or would he prefer to pick up his player option, then try his luck at a long-term contract in 2020?
If the Kings aren't convinced after Barnes' 28-game audition down this stretch this season that he's worth a significant investment, it may simplify his decision. The most likely scenario, in my view, is that he simply opts in and takes the big payday for 2019/20. But if he turns that option down in June, there's reason to believe that he recognizes a bigger offer is coming from Sacramento.
3. Will the Kings attempt to bring back Willie Cauley-Stein?

Many of the Kings' free agents – including veterans like Kosta Koufos and Corey Brewer – are good bets to head elsewhere this offseason. However, it remains unclear what the team's plan is for Cauley-Stein, who will be eligible for restricted free agency.
Cauley-Stein started all but one game for Sacramento in 2018/19, and he was reliable up front, averaging 11.9 PPG and 8.4 RPG in 27.3 minutes per contest. His on/off-court numbers also reflected his value, as the team was better both offensively and defensively when he played.
That doesn't necessarily mean that the Kings are prepared to invest heavily in the 25-year-old center though. It also doesn't mean he's eager to return, especially if Sacramento plans on getting young bigs like Harry Giles and Bagley more minutes going forward.
With the right of first refusal on Cauley-Stein, the Kings will have the ability to match any offer sheet he receives, but it's hard to imagine a rival suitor making too aggressive a play for a center who doesn't shoot from outside and isn't a strong rim protector. It wouldn't be shocking if Cauley-Stein becomes one of those RFAs who remains on the market beyond July in a stalemate with his previous team, but perhaps he and the Kings can find common ground before it gets to that point.
4. How will the Kings use their cap room?

Even if they have Barnes' player option and Cauley-Stein's cap hold on their books, the Kings should have well over $20MM in cap room this summer, putting them in position to be a player in free agency or on the trade market.
The Kings have never been one of the league's most popular free agent destinations, particularly during their lengthy playoff drought, but general manager Vlade Divac will likely be tempted to make a splash on the market this year. After all, his team was in contention for a postseason spot for most of the 2018/19 season. Maybe the right free agent addition, along with continued improvement from his young players, is all Sacramento needs to get over the top and earn a top-eight spot in the West.
Nonetheless, the Kings should remain cautious when approaching free agency. While their cap situation is favorable for now, it's just a matter of time until players like Hield and Fox get huge raises, so the team will want to avoid compromising its future flexibility by investing in the wrong player.
The Kings' best move, assuming they can't land a marquee free agent, might be to take a page from the Sixers' book — when Philadelphia was on the rise, the team signed J.J. Redick to a pair of one-year deals that looked like overpays on paper, but presented no long-term risk. Redick served as an important veteran leader and a key piece of the rotation, while the short-term nature of his contracts allowed the 76ers to retain its flexibility each summer.
5. Will the Kings extend Buddy Hield?

As noted above, second contracts for many of the Kings' youngsters are around the corner, and that's especially true for Hield, who becomes extension-eligible in July for the first time.
The timing couldn't be better for the former centerpiece of Sacramento's DeMarcus Cousins trade. He's coming off a breakout season in which he averaged 20.7 PPG on .458/.427/.886 shooting. Few sharpshooters were more dangerous in 2018/19 than Hield, who ranked fifth in the NBA in total 3-point attempts (651) and ninth in 3-point percentage.
There's no rush for the Kings to lock up Hield right away. He'll be eligible for restricted free agency in 2020, at which point Sacramento would have the ability to match any offer to retain him. But letting him reach free agency could be dangerous, particularly if he takes another step forward in 2019/20. A young scorer and shooter like Hield will command huge offers.
If they can lock up Hield at a reasonable rate this offseason, the Kings should jump at the chance to do so. Not only would they avoid having to deal with a potential offer sheet a year from now, but securing Hield would show that the Kings are willing to reward their core players and that those players, in turn, believe Sacramento is a franchise worth committing to. It would be a major step in the right direction for an organization that has spent more than a decade mired in the lottery.
---
Check out the Sacramento Kings' offseason salary cap outlook right here.

---
Salary information from Basketball Insiders was used in the creation of this post. Photos courtesy of USA Today Sports Images.