It has been a precipitous drop-off over the last two years for the Wizards, who racked up 49 wins and pushed the Celtics to a seventh game in the Eastern Conference Semifinals during the 2016/17 season.
A year later, they backed into the playoffs as the No. 8 seed before being eliminated in the first round. This season, they cratered out of the postseason picture entirely, finishing the season with a 32-50 record and an unclear picture of when their injured – and increasingly expensive – franchise point guard will be able to return to the court.
Here are five key questions facing the franchise this summer:
1. Who is running the front office?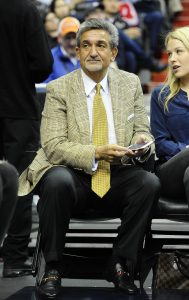 As our front office shakeup tracker shows, the Wizards are the only team that has ousted its previous top executive this spring and hasn't yet identified a replacement.
After targeting Nuggets president of basketball operations Tim Connelly, Washington was unable to convince him to leave Denver. The team has also conducted multiple interviews with former Cavs and Hawks GM Danny Ferry, Thunder executive Troy Weaver, and interim GM Tommy Sheppard, but has yet to commit to any of those candidates.
Sheppard is running the show for now, and with every passing day, it looks increasingly likely that he'll be the one making the calls for the Wizards this summer. After all, the draft is less than three weeks away, and the free agent period will begin in a month. There's not a lot of time left for someone new to come in and make sweeping changes to the organization's philosophy and offseason big boards.
It's possible that the Wizards are still waiting on an executive whose team is active in the playoffs — perhaps Larry Harris of the Warriors or even Masai Ujiri of the Raptors. But if not, it would be in owner Ted Leonsis' best interests to resolve the situation sooner rather than later. This will be a big offseason for the Wizards, and leaving the front office in limbo with the draft rights around the corner isn't the best way to kick it off.
2. What can or should the Wizards do with John Wall?

The biggest issue facing the Wizards' new head of basketball operations is what do with Wall. The point guard's super-max extension, which will pay him a projected $38.15MM in 2019/20 and $170.91MM over four years, goes into effect in July, but he won't be ready to play by opening night.
Wall is still recovering from a torn Achilles, which is a scary proposition for a player whose best traits are his speed and explosiveness. Even if Wall makes a full recovery, he'll be 29 years old by the time he gets back on the court and 32 by the final year of his contract. It's not hard to see why the deal is viewed by NBA observers as one of the least team-friendly pacts in the league.
For now though, there's not really a lot the Wizards can do about Wall's contract. With four years left on it, waiving and stretching it isn't a realistic option. A trade doesn't make sense either, since Washington would have to attach way too many other assets to make it worthwhile. All the team can really do is wait it out and hope that Wall comes back strong and the contract starts looking a little more manageable in a year or two.
With Wall's salary taking up 35% of the cap and reducing the Wizards' flexibility, it will be extremely difficult to build a legit contender in the short term. As such, the best move for the organization probably involves taking a step back this offseason, focusing on ways to compile assets and compete down the road, rather than shoving all its chips in for 2019/20.
3. How about Bradley Beal?

If the Wizards do take a step back next season and don't plan to push to contend in the short term, the question of what to do with Beal becomes a fascinating one too. In Wall's absence, he emerged as Washington's best player, averaging an impressive 27.2 PPG, 6.0 APG, and 5.1 RPG on .476/.359/.822 shooting in his 47 games after Wall's injury.
Would it make sense for the Wizards to take advantage of his increased value by trading Beal now? He'd almost certainly net some strong pieces for a rebuild, and Wall's cap hit wouldn't limit the team's flexibility as much if it's the only maximum salary on the books for the next couple years. It's even possible – albeit unlikely – that the Wizards could unload Wall's contract altogether in a Beal trade.
The decision on Beal will likely come down to the new GM's vision, but I'd be surprised if the Wizards seriously look to move him this offseason. He remains under contract for the next two seasons, and after falling short of a spot on an All-NBA team this year, he's not eligible for a super-max extension, meaning the club could potentially extend him at a fair rate if he's interested.
Most importantly, Beal is still only 25 years old and has proven he's the kind of impact player and scorer that is very hard for NBA teams to find. If the Wizards were to trade him for a package of several pieces and then bottomed out next season, there's no guarantee that any of the players they acquire in that package – or in next year's draft lottery – would ever develop into the sort of star Beal already is.
4. How should the Wizards use the No. 9 overall pick?

The results of the 2019 draft lottery illustrate why it's risky for the Wizards to count on the lottery to put them in position to land a difference maker. Washington entered the night ranked sixth in the lottery standings, but saw the seventh-place and eighth-place teams (New Orleans and Memphis) leapfrog them for the top two spots in the draft. The Lakers also moved up, pushing the Wizards all the way down to No. 9.
Although the outcome was disappointing and could've looked drastically different if one ping pong ball had been drawn differently, the Wizards can still get a good player at No. 9 — even in a year when there aren't a ton of sure things in the lottery.
Texas center Jaxson Hayes could be an intriguing target, since the only centers currently under contract in D.C. are Ian Mahinmi and Dwight Howard, overpriced veterans who aren't part of the club's long-term plan.
If a forward like Cam Reddish slips to No. 9, he'd be a nice upside play for the Wizards. French forward Sekou Doumbouya, who has been compared to Pascal Siakam, would fit that bill too. UNC's Nassir Little is a polarizing prospect, but his length and athleticism are tantalizing.
Whoever the Wizards end up with, the fact that they even have this pick available is a positive sign. In many recent seasons, the club has traded away its first-round pick for short-term help. Those moves haven't always turned out badly, but the franchise's cap issues can be attributed in part to not having enough players on affordable rookie contracts.
Without those deals, it became harder for the cap-strapped Wizards to keep the players they traded for, which turned potential building blocks like Bojan Bogdanovic into three-month rentals. Starting to add more players on rookie contracts is a step in the right direction for a club that will have to work around some expensive investments.
5. Which of the Wizards' top free agents will the team try to keep?

Despite having nearly $90MM committed to their 2019/20 cap, the Wizards have a ton of empty roster spots and a handful of key contributors who will be hitting the free agent market this summer. Tomas Satoransky, Thomas Bryant, and Bobby Portis will be restricted free agents, while Trevor Ariza will be unrestricted.
Under Ernie Grunfeld, the Wizards expressed serious interest in locking up Satoransky, even exploring an in-season extension with him. It's not clear that the new head of basketball operations will have that same level of interest, but with Wall expected to miss most of the 2019/19 season, re-signing Satoransky would add some much-needed stability at the point guard spot. The Wizards will control the process since Satoransky will be an RFA, so I'd expect the team to make a strong effort to bring him back as long as he doesn't sign an outrageous offer sheet.
The Wizards' decision on Portis will be interesting. With Jabari Parker unlikely to return to the Wizards, Portis would be the only player left from the trade that sent Otto Porter to Chicago. If Washington doesn't push to bring back Portis, it would be a tacit acknowledgment that the Porter deal was just a salary dump.
Depending on the price, it might make more sense to prioritize Bryant, who had a breakthrough season at age 21, averaging 10.5 PPG, 6.3 RPG, and 0.9 BPG while leading the league in 2PT% (.685). While Portis is a more dangerous offensive threat, Bryant is a stronger defender and doesn't need the ball much, which should make him a better fit with Beal and – eventually – Wall.
As for Ariza, the Wizards acquired him with the intent of keeping him beyond 2018/19, but he'll have plenty of other options and I don't expect him to give Washington any sort of discount. Ariza is more of a win-now player, so while the Wizards may like to retain him if they can, they should certainly avoid any sort of bidding war for him.
---
Check out the Washington Wizards' offseason salary cap outlook right here.

---
Salary information from Basketball Insiders was used in the creation of this post. Photos courtesy of USA Today Sports Images.