Every week, Hoops Rumors takes a closer look at players who will be free agents or could become free agents next offseason. We examine if their stock is rising or falling due to performance and other factors. With the playoffs in full swing, we turn our attention to the Western Conference:
Trey Lyles, Nuggets, 23, PF (Down) — Signed to a four-year, $10.4MM deal in 2015
Following an uninspiring regular season, Lyles has been a forgotten man in the postseason. He's only made three cameos as coach Michael Malone has gone with a nine-man rotation with Mason Plumlee serving as the primary big man off the bench. Denver can make him a restricted free agent by extending a $4,485,665 qualifying offer, though his cap hold is $10.1MM. With hopes that Michael Porter Jr. can play next season, it's no sure thing that Lyles will get that offer. Whether the team picks up Paul Millsap's $30MM option – or brings him back at a reduced rate – will also impact Lyles' future in Denver.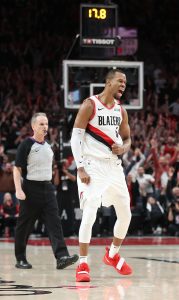 Rodney Hood, Trail Blazers, 26, SG (Up) — Signed to a one-year, $3.47MM deal in 2018
No free agent has boosted his stock in the conference semifinals more than Hood, who is a big reason why Portland's still alive. He poured in 25 points in Game 6 against Denver and has scored at least 14 points in five of the six games in the series. He drained crucial shots in the fourth overtime of the Blazers' epic 140-137 victory in Game 3. This is same guy who averaged 3.2 PPG in the first-round series against Oklahoma City. Whether he receives offers as a starter or sixth man, Hood will get paid handsomely this summer.
Iman Shumpert, Rockets, 28, SG (Up) – Signed to a four-year, $40MM deal in 2015
Shumpert is making $11MM this season. No one is going to pay him that much on the open market anymore, but after battling injuries the past two seasons, he has once again become a valuable role player. While he barely got off the bench in the first-round series against Utah, he has been a factor in the last three games against Golden State. Shumpert has averaged 8.7 PPG in 18.3 MPG while going 7-for-13 beyond the arc during that span. He's also helped to contain the Splash Brothers. Shumpert shouldn't have too much trouble finding work as a second-unit player.
Kevon Looney, Warriors, 23, PF/C (Up) – Signed to a one-year, $1.56MM deal in 2018
With DeMarcus Cousins and Damian Jones nursing injuries, Looney has received steady minutes during the postseason. On the star-laden Warriors, Looney's offensive contributions have been limited to putbacks and dunks. But the 2015 first-round selection has been a factor on the boards (nine rebounds in Game 5) and at the defensive end. It's estimated that Looney will receive offers in the $3-$5MM range, which might make him affordable for the capped out Warriors, who own his Bird Rights.
Photo courtesy of USA Today Sports Images.