JULY 6: The Pistons have officially signed Derrick Rose, according to NBA.com's log of transactions.
JUNE 30: Free agent Derrick Rose has agreed to a two-year, $15MM deal with the Pistons, according to ESPN's Adrian Wojnarowski (Twitter link).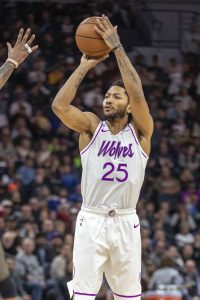 Rose, 30, enjoyed a productive bounce-back season in Minnesota in 2018/19. While he was limited to 51 games due to injury issues, he averaged 18.0 PPG, 4.3 APG, and 2.7 RPG with an impressive .482/.370/.856 shooting line. It was the first time the former MVP had ever shot higher than 34.0% from beyond the arc in a season.
As for the Pistons, they were in the market for a point guard to join Reggie Jackson at the position, with Ish Smith and Jose Calderon headed for unrestricted free agency.
Detroit has the full mid-level exception at its disposal and will use a portion of that MLE to sign Rose. The deal should leave the Pistons with about $2MM on its mid-level.
Photo courtesy of USA Today Sports Images. Luke Adams contributed to this post.