Mavericks big man Dwight Powell has officially exercised his player option for the 2019/20 season, reports Marc Stein of The New York Times (via Twitter). As a result of the move, Powell will earn a $10,259,375 salary next season, per Basketball Insiders.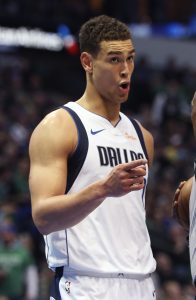 There were conflicting reports earlier this spring on whether Powell would opt in or out. After a May report suggested that he was expected to hit the open market, a June update confirmed that an opt-in was anticipated instead.
The Mavericks have long indicated that they plan to lock up Powell to a longer-term deal, which could've been done whether or not he exercised his player option. The conflicting reports on his option decision may have stemmed from confusion over whether he'd sign a brand-new deal with Dallas after opting out or sign an extension after opting in.
Powell, who will turn 28 next month, averaged a career-high 10.6 PPG to go along with 5.3 RPG, 1.5 APG, and a .597 FG% in 77 games (21.6 MPG) last season for the Mavs. The former second-round pick has spent the last four seasons in Dallas, and team management wants to ensure he sticks around a little longer.
Team owner Mark Cuban spoke at season's end about a three-year extension for Powell, though it's not clear if he meant three new years or three years in total. Either way, I'd expect Dallas to work on completing that deal in the coming weeks.
Even with Powell's salary on their books, the Mavs should enter the free agent period with at least $29MM in cap room available, as we detailed in April. Meanwhile, Powell would be eligible to sign an extension that takes effect in 2020/21 with a starting salary worth up to 120% of his previous salary.
Photo courtesy of USA Today Sports Images.