After missing the postseason by a single game in 2018, the Nuggets left no doubt about their spot in the playoffs in 2019, winning 54 games and claiming the No. 2 seed in the Western Conference.
Although Denver ultimately fell to Portland in the Western Semifinals, it was a hugely successful year for the organization, which won its first playoff series since 2009 as Nikola Jokic and Jamal Murray established themselves as one of the NBA's most promising young duos.
Here are five key questions facing the franchise this summer:
1. What will the Nuggets do with Paul Millsap?

Eleven players from last season's Nuggets roster remain under contract for 2019/20, include nine of the team's top 10 players in terms of minutes per game. The only player in that top 10 whose situation remains murky is Millsap.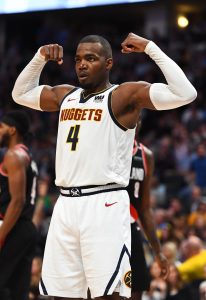 After being limited to 38 games in his first season in Denver due to a wrist injury, Millsap served as the team's starting power forward in 2018/19, averaging 27.1 minutes per contest in 70 games. While Millsap's numbers (12.6 PPG, 7.2 RPG) were relatively modest, he helped solidify the Nuggets' defense and provided crucial veteran leadership on a young team.
I don't have any doubt that the Nuggets would like to bring Millsap back. The only problem? The final year of his contract features a $30.35MM team option. That's a steep price to pay for a 34-year-old who is no longer in the prime years of his career.
The Nuggets could probably afford to pick up Millsap's option and maybe even still use the full mid-level exception in free agency, though they'd be right up against the tax line in that scenario.
Declining Millsap's option and bringing him back at a lower salary would be an option, but once Denver turns down that option, he'll be free to test the open market — there's no guarantee he'd want to negotiate a more modest deal with the Nuggets after they've denied him what could be his final major payday.
While many big-money team and player option decisions are obvious, Millsap's is one of the few that could legitimately go either way.
2. What free agent options would the Nuggets have if they turn down (or pick up) Millsap's option?

Without Millsap's salary on their books, the Nuggets could open up about $17MM in cap room. That's a sizable chunk, but it's not nearly enough to pursue a star free agent.
A player like Tobias Harris, for instance, could be an intriguing fit in Denver, but there's no chance the team will have a realistic shot at him with an offer that starts at $17MM — he's likely to sign for nearly double that amount.
That doesn't mean that the Nuggets wouldn't have options with $17MM in cap room, but their potential targets would be a little less exciting than someone like Harris. If the team pursued a power forward, veterans such as Thaddeus Young, Marcus Morris, Bobby Portis, and Trevor Ariza would be more realistic options.
It may ultimately make more sense for the Nuggets to either pick up Millsap's option or agree to bring him back on a new deal, clearing the way for the team to stay over the cap and keep its $9.25MM mid-level exception and $3.62MM bi-annual exception. Using both exceptions in full would probably put Denver over the tax line, barring cost-cutting moves, but the club should be able to use most or all of its MLE on a solid contributor and still sneak below the tax.
Free agents like Morris and Ariza might still be targets with that exception, though I expect them to receive more substantial offers. With Millsap back in the mix, Denver wouldn't necessarily have to target a power forward, opening up more possible avenues for the mid-level. As a point of comparison, Kyle Anderson and Julius Randle were the two free agents last year who signed for the full MLE, so the Nuggets could reasonably expect to acquire a reliable rotation player using that money.
3. What can the Nuggets expect out of Michael Porter Jr.?

The final pick of the 2018 NBA draft lottery, Porter is the only first-rounder from last year's draft that has yet to make his professional debut.
While a back injury sidelined Porter for his rookie season, he has been medically cleared and is expected to participate in Summer League with the Nuggets, right around the time the club is finalizing many of the trades and/or free agent signings it will make this summer.
Having an idea of what to expect from Porter would give the Nuggets a clearer picture of how they should look to upgrade their roster. If they think MPJ is capable of staying healthy and stepping into the rotation in 2019/20, it might dissuade the team from looking to add another forward this summer.
Or, if the Nuggets feel that their rotation is getting crowded and want to try to consolidate some of their pieces, having a healthy Porter available to dangle in trade talks as part of a larger package could pave the way for Denver to acquire another impact player.
Before the franchise makes a decision on Porter's future though, it has to see what it has in him — and it has to confirm that his health is back to 100%.
4. Is this the end of the road for Trey Lyles in Denver?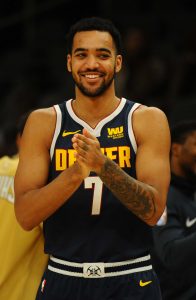 After emerging as a solid backup stretch four in 2017/18, Lyles regressed last season. His shooting percentage dipped from 49.1% to 41.8% (including 38.1% to 25.5% on three-pointers), and he wasn't counted on to play as significant a role as he had the year before. In the playoffs, he fell out of the rotation entirely.
The Nuggets paid a significant price to acquire Lyles in 2017, surrendering the draft pick that became Donovan Mitchell, and a bounce-back performance is a possibility. But he'll be a restricted free agent this season and it's not clear if he's in the club's future plans, particularly if Millsap returns and Porter and Juan Hernangomez will have regular rotation roles.
The Nuggets can retain the right of first refusal on Lyles by tendering him a qualifying offer worth approximately $4.5MM. But if the team puts that one-year offer on the table, it will have to be comfortable with the possibility of Lyles accepting it, since I'm skeptical any team will be ready to swoop in with a big offer sheet.
Assuming the Nuggets plan on bringing back Millsap at his option now, there's a chance they'll simply pass on Lyles' qualifying offer, preferring to use their remaining spending power below the tax threshold elsewhere.
5. Will the Nuggets extend Jamal Murray?

Murray, the Nuggets' top perimeter player, will be extension-eligible for the first time this offseason. There should be mutual interest in a new, long-term deal, but Denver will have to seriously weigh whether it makes more sense to get something done with Murray right away or wait until he reaches restricted free agency in 2020.
The Nuggets' decision may come down to what their plans are for the summer of 2020. Currently, the team only has upwards of about $67MM in team salary committed to its 2020/21 books. A lucrative new extension for Murray would take that number over $90MM and would reduce the likelihood of Denver using cap room next summer.
On the other hand, keeping Murray's $13MM cap hold on the books would create a path to a chunk of cap space for the club. The Nuggets could use that cap space in free agency in 2020, then use Murray's Bird rights to go over the cap to sign him to his new contract at that point.
If the Nuggets expect to have to go up to the max for Murray, waiting makes sense — in that scenario, the salary on his next contract would be the same whether they get a deal sooner or later. But if the young guard is willing to sign for a slightly more team-friendly rate in extension negotiations this offseason, Denver should probably take advantage of that opportunity. If he takes another step forward in 2019/20, Murray's price will only go up.
Hernangomez and Malik Beasley will also be eligible for rookie scale extensions this offseason, though I'd be a little surprised if either player inks one.
---
Check out the Denver Nuggets' offseason salary cap outlook right here.

---
Salary information from Basketball Insiders was used in the creation of this post. Photos courtesy of USA Today Sports Images.