Thanks to an All-Star season from Blake Griffin, the Pistons reached the playoffs for just the second time since the 2008/09 season. Their postseason stay didn't last long, as they were swept in the opening round by the top-seeded Bucks.
Making improvements to the team this offseason will be challenging for the front office. They are saddled with some bad contracts that will prevent them for pursuing top-level free agents. Talent is thin beyond the frontcourt duo of Griffin and Andre Drummond and they need to find some shooters. The team ranked only above the woeful Knicks in field-goal shooting percentage this season.
Here are five key questions facing the franchise this summer:
1. Will they keep the Blake Griffin/Andre Drummond/Reggie Jackson core intact?
It's unlikely the Pistons will go into full tank mode after making the playoffs for the second time in a decade. Once the gold standard among Eastern Conference franchises by reaching the conference finals from 2003-08, the Pistons have been irrelevant for too long to start all over again.
Griffin has given the franchise the star power it has sorely lacked for many years. He has reshaped his game over the years, turning himself into a stretch four, ballhandler and playmaker. Moreover, concerns over how Griffin would handle the switch from Los Angeles to snowy Detroit have evaporated. He's become the clear team leader and spokesman while endearing himself to teammates, coaches and staff members with his work ethic and professionalism.
Drummond is a tricky case. He's the league's premier rebounder and one of its most mobile big men. His offensive game has shown improvement, particularly at the free throw line where he's gone from historically awful to somewhat respectable. He's also shown some improvement defensively, leading the team in blocks and steals, though his presence doesn't discourage opponents from attacking the paint.
The bigger question mark is Drummond's future plans. He holds a player option on his contract after next season at $28.75MM. If he intends to opt out, the Pistons could explore trades to pile up assets rather than risk losing him for nothing more than salary-cap space next summer.
Jackson ranked 32nd among point guards on ESPN's Player Efficiency Rating scale. Injuries have set his career back, though his play perked up after the All-Star break. There's little doubt the Pistons would jump at the chance to upgrade at the point, since coach Dwane Casey's scheme isn't reliant on pick-and-rolls and Jackson is more comfortable running those sets.
Jackson becomes a free agent next summer, so the cap-strapped Pistons may simply roll with him next season and then replace him.
2. Will the Pistons be content to wait out unfavorable contracts?
The previous regime led by coach and president of basketball operations Stan Van Gundy was far too generous passing out big money to low-impact players.
Jackson certainly isn't the only player who has failed to live up a generous multi-year contract. Jon Leuer, with $9.5MM remaining on his deal, epitomizes the phrase "dead money." Even with Griffin struggling with a knee injury late in the season and a roster bereft of true power fowards, Casey chose to use small lineups rather than throw Leuer into the rotation.
The front office, led by senior adviser Ed Stefanski, would love to move Leuer's contract. However, the Pistons are loathe to give up future assets to make that happen, since it wouldn't appreciably aid their cap situation this summer. A greater possibility is attaching his salary in a larger deal that would net the team another impact player on a pricey long-term contract that the trade partner is looking to shed.
Galloway, who has a year and $7.3MM left on his deal, was able to carve out a role in Casey's rotation. He's an undersized shooting guard who can occasionally get hot from long range. The Pistons certainly wouldn't hesitate to move him in a package deal but once again, they won't ship out future assets to shed his contract.
3. How will the Pistons use their mid-level exception?
The Pistons have lots of holes to fill. It's more likely they'll split the mid-level up to satisfy those needs, unless they can sign a starter or sixth man at below-market value.
Re-signing backup point Ish Smith seemed like a priority until his production dropped off late in the season. The Pistons could opt for a younger option on the market, or shift Luke Kennard or Bruce Brown into that role.
They'll be looking for an upgrade over the lumbering, aging Zaza Pachulia as Drummond's backup and could also add a power forward behind Griffin to the mix.
Yet the biggest area of need remains the wing spots. The Pistons simply have to find more shooters to ease the burden on Griffin.
They've already been linked to Derrick Rose and Seth Curry. Danny Green, Terrence Ross and Reggie Bullock are other names to watch. Bullock had a forgettable experience with the Lakers, but was Detroit's most reliable 3-point shooter before he was dealt in February.
4. How will the Pistons use the No. 15 overall pick?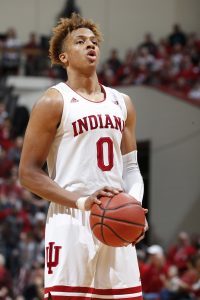 The general feeling around the organization is that the Pistons will target a wing with their pick, which is just outside the lottery, but the team may ultimately utilize the "best player available" strategy at that spot.
The latest ESPN mock draft has the Pistons selecting playmaking wing Romeo Langford, who played most of his freshman season at Indiana with a hand injury. If the Pistons brass believes Langford's subpar shooting last season was due to the injury, that prediction might come to fruition.
However, there are several forwards projected to go just ahead of their pick and it's almost inevitable one or more will slide out of the lottery. The Pistons could wind up with Rui Hachimura, Nassir Little, PJ Washington or Brandon Clarke. Another option would be to fill the shooting guard spot with a perimeter threat like Tyler Herro or Nickeil Alexander-Walker.
5. Given their salary-cap constraints, what else can the Pistons do to improve this summer?
One of the things that intrigued owner Tom Gores when he hired Casey last summer was the ex-Raptors coach's ability to develop young talent. The fruits of Casey's efforts have come to light during Toronto's NBA Finals run (Pascal Siakam, Fred VanVleet, and Norman Powell).
The Pistons' roster is dotted with youth and there's untapped potential. Brown, a second-round pick last year, became a starter after Bullock was traded due to his defensive prowess. Now, the coaching staff must develop Brown's offensive game.
As mentioned earlier, Brown or Kennard could emerge as the second-unit point guard next season. The staff wanted to take a long look at Kennard in that role during summer league action last July but a knee injury derailed those plans.
Shooting guard Khyri Thomas, another second-rounder acquired from the Sixers in last year's draft, saw spot duty last season. The staff is high on his potential as a perimeter shooter.
Sviatoslav Mykhailiuk, yet another second-round pick last year who was forwarded by the Lakers in the Bullock trade, also intrigues with his outside shooting and length. Molding Thomas and/or Mykhailiuk into a reliable rotation player next season would make this a productive summer for the coaching staff.
---
Check out the Detroit Pistons' offseason salary cap outlook right here.

---
Salary information from Basketball Insiders was used in the creation of this post. Photos courtesy of USA Today Sports Images.