The Heat are finalizing a deal to acquire free agent swingman Jimmy Butler via a sign-and-trade deal with the Sixers, reports ESPN's Adrian Wojnarowski (via Twitter). Philadelphia is receiving Josh Richardson as part of the agreement, tweets Shams Charania of The Athletic.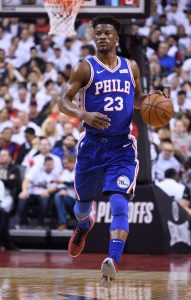 Butler will sign a four-year, maximum-salary contract with the Heat, reports Charania (via Twitter). The new deal will pay him just shy of $141MM.
Meanwhile, the 76ers will receive no additional salary back from Miami in the sign-and-trade agreement, tweets Derek Bodner of The Athletic. Philadelphia will use its remaining cap room to sign Al Horford to a lucrative four-year deal.
While Richardson is apparently the only player going to Philadelphia, the Heat will need to trade away more players to make the deal work from their end. As ESPN's Bobby Marks notes (via Twitter), acquiring a player via sign-and-trade will trigger a hard cap at the tax apron ($138.9MM) for Miami, and team salary would be way over that hard cap after swapping Richardson for Butler.
[UPDATE: Mavs to acquire Goran Dragic as part of Butler sign-and-trade]
Once the dust settles and the details are sorted out, the Heat will be adding the sort of impact player to their lineup that they've long sought. In fact, as Kevin O'Connor of The Ringer points out (via Twitter), Miami made a player for Butler last fall using Richardson as bait before the Timberwolves decided to send him to Philadelphia instead.
In 65 total games for the Wolves and Sixers last season, Butler averaged 18.7 PPG, 5.3 RPG, 4.0 APG, and 1.9 SPG with a .462/.347/.855 shooting line. While his numbers dipped a little in Philadelphia, Butler averaged at least 20 points per game in each of the previous four seasons before 2018/19, making the All-Star Game in all four of those years.
With Butler headed to Miami, it will be worth watching the Clippers and Rockets to see what their next moves are. Houston had long projected confidence that it could land Butler via a sign-and-trade of its own, while the Clips had reportedly hoped to pair Butler and Kawhi Leonard in Los Angeles.
Photo courtesy of USA Today Sports Images.