JULY 8, 1:30pm: The Kings have officially signed Dedmon, the team announced today in a press release.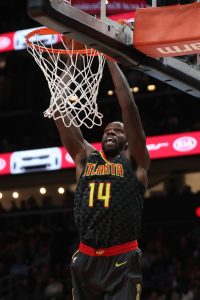 JUNE 30, 5:03pm: The Kings have agreed to terms on a three-year, $41MM deal with Dedmon, his agents tells Shams Charania of The Athletic (Twitter link).
JUNE 30, 4:12pm: The Kings are expected to agree to terms quickly with center Dewayne Dedmon when free agency opens, according to Sam Amick of The Athletic, who reports (via Twitter) that the two sides will finalize a three-year, $40MM agreement. The third year will be partially guaranteed, Amick adds.
[RELATED: Kings to finalize four-year deal with Harrison Barnes]
The team issued a qualifying offer to Willie Cauley-Stein, who is on the market as a restricted free agent. Perhaps the team brings WCS back in addition to Dedmon, but I'd speculate that we've seen the last of Cauley-Stein in Sacramento.
The Kings were eyeing an upgrade at the center spot. They reportedly had interest in Al Horford, though the organization feared that he would end up signing elsewhere. Sacramento was also in the mix for Clint Capela had the Rockets opted to trade him either by himself or via a sign-and-trade that involved Jimmy Butler. There's no word yet on whether the Kings are done shopping at the center spot.
Dedmon, who is entering his age-30 season, spent his last two seasons in Atlanta. In 2018/19, he averaged 10.8 PPG, 7.5 RPG, 1.3 BPG, and 1.1 SPG with a .492/.382/.814 shooting line in 64 games (25.1 MPG) for the Hawks.
In a recent podcast, ESPN's Zach Lowe identified Dedmon as "sneakily the most coveted under-the-radar free agent in the league," suggesting that teams would be thrilled to land him at the mid-level. Sacramento had to go higher than that to secure a commitment, but will still have cap room left over after adding Dedmon and Harrison Barnes.
Chris Crouse contributed to this post. Photo courtesy of USA Today Sports Images.