Kings forward Harrison Barnes has decided to turn down his player option for the 2019/20 season, agent Jeff Schwartz tells ESPN's Adrian Wojnarowski (Twitter link). Rather than earning a $25,102,512 salary for next season, per Basketball Insiders, Barnes will reach the open market as an unrestricted free agent.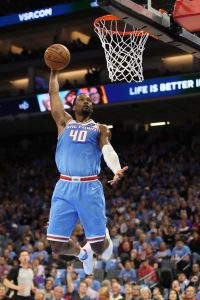 Barnes' decision doesn't necessarily mean that his time in Sacramento is over. The Kings will still hold his Bird rights, so they could offer him up to five years and there are no limitations on the salary they could offer up to the maximum. Wojnarowski hears from sources that the two sides are open to exploring a new deal together.
Still, Barnes will have the opportunity to consider other suitors in free agency this summer, if he so chooses. His decision is somewhat surprising since he's unlikely to match his $25MM option salary for 2019/20, but he should receive offers that comfortably exceed that total number over multiple years, as his ability to make outside shots and guard multiple positions will appeal to NBA teams.
Barnes, 27, was traded from the Mavericks to the Kings at February's trade deadline in the third year of the four-year, maximum-salary contract he signed with Dallas back in 2016. For the season, he recorded 16.4 PPG and 4.7 RPG with a .420/.395/.824 shooting line in 77 games (32.9 MPG).
As I noted when I previewed the Kings' cap situation this spring, the team can create up to about $62.6MM in cap room with Barnes off its books for 2019/20. However, Sacramento hasn't typically been a popular destination for top free agents, and the Kings acquired Barnes in the hopes that he'd be their answer at small forward.
It could be in both sides' best interests to work out a new agreement once free agency begins, but we'll have to wait to see how strong that mutual interest is. If Barnes doesn't return to Sacramento, the club will have plenty of flexibility to pursue his replacement.
Photo courtesy of USA Today Sports Images.