The Lakers have found a way to maximize their projected cap room for free agency, according to ESPN's Adrian Wojnarowski, who reports (via Twitter) that the team is sending Moritz Wagner, Isaac Bonga, and Jemerrio Jones to the Wizards as part of the Anthony Davis trade. Additionally, Davis has agreed to waive his $4MM trade kicker, per Wojnarowski.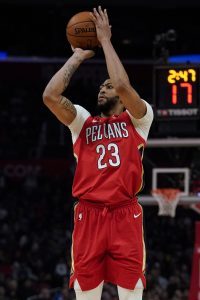 As a result of those developments, the Lakers will be able to generate just over $32MM in cap room based on the projected $109MM cap. That's more than enough space for a maximum salary for a player with less than seven years of NBA experience ($27.25MM), and puts them in the ballpark of the max for a player in the 7-9 year range ($32.7MM).
[RELATED: NBA Maximum Salary Projections For 2019/20]
Here's how the Lakers' moves will work once the July moratorium lifts on July 6:
Prior to completing the Davis deal, the Lakers will have approximately $32MM in cap room after accounting for eight players, the cap hold for the No. 4 pick, and three empty roster charges. The team will use that room in free agency, with ESPN's Bobby Marks tweeting that L.A. is still considering whether it will commit all that money to a single star or split it up among two or three players.
If the Lakers go after a single star, D'Angelo Russell and Kawhi Leonard are among the presumed targets. According to Wojnarowski, players like Danny Green, Terrence Ross, and Seth Curry could be among the club's targets if it breaks up its cap space.
Once that space is used up, the Lakers will complete its agreements with the Pelicans and Wizards as part of a single three-way trade. In order to acquire Davis, whose salary is $27,093,018, the Lakers will have to send out at least $21,594,415 in total to meet salary-matching requirements as an over-the-cap team. They'll do so with the following contracts:
Jones' salary is non-guaranteed, which means it currently counts for $0 for salary-matching purposes. Without it, the Lakers would fall just under $200K shy of the salary they need, since the unsigned No. 4 pick would also count for $0 for matching purposes (draftees who sign rookie contracts can be used for salary matching, but can't be traded for 30 days). As such, according to Marks (via Twitter), Jones' salary will be partially guaranteed for $199K, allowing the Lakers to meet the necessary outgoing-salary threshold.
The Wizards, who will use trade exceptions to take on the incoming players, will also receive the Lakers' 2022 second-round pick, tweets Shams Charania of The Athletic. In order to officially make it a three-team deal – and to incentivize the Pelicans to sign off – Washington will send $1.1MM in cash to New Orleans, tweets Candace Buckner of The Washington Post. That's the minimum amount necessary to satisfy the "touch" rules in a three-team trade, tweets Marks.
While the Lakers' motivation for the deal is obvious, it's not a bad arrangement for the Wizards either. As an over-the-cap team, Washington didn't have many other avenues to add talent this offseason, and have several rotation players facing free agency.
The Wizards will now get a chance to take fliers on Wagner and Bonga while also picking up a future second-round pick. They had interest in Wagner leading up to the 2018 draft, according to Wojnarowski, who tweets that the big man will get an opportunity in D.C.
In other Davis-related news, Chris Haynes of Yahoo Sports reports that LeBron James has agreed to give up his uniform number (No. 23) to AD in an effort to make the big man as comfortable as possible in Los Angeles. Davis is "extremely grateful," Haynes adds. It's not clear yet which number James will wear in 2019/20, but he was No. 6 during his years with the Heat.
Photo courtesy of USA Today Sports Images.