The Pelicans have reached an agreement to trade All-Star big man Anthony Davis to the Lakers for guards Lonzo Ball and Josh Hart, forward Brandon Ingram and three first-round picks, including the No. 4 overall pick in this year's draft, Adrian Wojnarowski of ESPN tweets.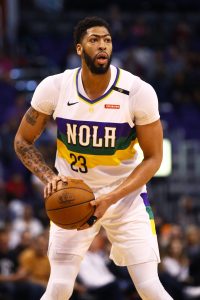 The rest of the Pelicans' haul includes a 9-30 protected first-rounder in 2021, which becomes unprotected in 2022, and an unprotected first-rounder in 2024.
New Orleans will also have the right to swap unprotected first-rounders in 2o23 and will have the option to defer the 2024 pick until 2025, according to reports from Tim Bontemps of ESPN and Tania Ganguli of The Los Angeles Times (Twitter links).
[UPDATE: Davis trade will become a three-team deal]
The Lakers immediately become championship contenders with Davis joining forces with LeBron James. Davis' agent Rich Paul, also James' agent, had tried to steer trade talks toward the Lakers over the winter after Davis' desire to be traded was made public. But Davis didn't get his wish at the time.
Paul and Davis recently met with the Pelicans' new top executive, David Griffin, who tried to convince Davis to rescind his trade request. Davis declined and expressed his desire to play long-term for either the Lakers or Knicks.
GM Rob Pelinka, who has been under fire after criticism from former Lakers president Magic Johnson, pulled off a major coup by winning the Davis sweepstakes over the Knicks and Celtics, among others. Los Angeles gave up plenty in the deal but didn't have to include another talented big man, Kyle Kuzma.
Davis could sign an extension with the Lakers but still intends to test free agency next summer, Chris Haynes of Yahoo Sports tweets.
The Lakers will have either $27.8MM or $32.5MM in cap room after the deal to pursue a high-level free agent, depending upon timing and Davis' willingness to waive his $4MM trade bonus, ESPN salary cap expert Bobby Marks tweets.
The trade cannot be officially finalized until after the new league year begins in July. It may be even be completed as late as July 30 — newly-drafted players can be traded immediately without signing a rookie scale contract, but if they sign that contract, they aren't eligible to be dealt for 30 days. Waiting those 30 days would be advantageous to the Lakers for cap-related reasons, as Marks notes (via Twitter).
The Lakers still don't have quite enough cap room to max out a free agent like Kawhi Leonard, Jimmy Butler, Kyrie Irving or Kemba Walker but they're close to it, Eric Pincus of Basketball Insiders tweets. Naturally, one of those free agents might take a little less to form a superstar trio in Los Angeles or the Lakers could make other moves to clear more cap room. Walker will be the Lakers' top free agent target, Marc Stein of the New York Times tweets.
Boston refused to part with its top young player, forward Jayson Tatum, in trade talks with the Pelicans, Stein add in another tweet. That put the Lakers in the driver's seat for Davis' services.
With Ball and Hart joining Jrue Holiday, the Pelicans have greatly enhanced their backcourt. They now have the No. 1 and No. 4 picks in Thursday's draft. It's a slam dunk they'll select Duke forward Zion Williamson with the top pick and theyll get another high-level prospect, unless they have another trade in the works. Williamson and Ingram should be a formidable duo at the forward spots and the Pelicans can now concentrate on bringing in another big man to make all the other pieces work.
Photo courtesy of USA Today Sports Images.