11:30pm: Full reports from ESPN and Los Angeles Times provide more details on Leonard's proposed meeting(s) with the Lakers, as Shelburne, Turner, and Tania Ganguli explain in those stories that Kawhi's camp made it clear he only wants Buss and Johnson involved in his meeting with the team.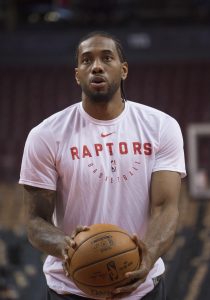 The Lakers' owner (Buss) and former president of basketball operations (Johnson) will likely have to meet with Leonard and his camp separately, since the NBA has told Johnson that he can't be a formal part of the free agent process, per ESPN and The Times. He still has interest in doing what he can on an informal basis to help the Lakers.
While James and Davis also plan to meet with Leonard, they might not be involved in the Lakers' formal meeting, since Kawhi's camp let it be known he wants that meeting to be with only Buss, rather than with multiple members of the front office, according to The Times. Additionally, ESPN's report notes that Davis can't act as an official representative of the Lakers, since he won't actually become a Laker until July 6.
4:50pm: Citing league rules, Johnson said he cannot participate in the meeting nor has Buss asked him to meet with any prospective free agents, Ramona Shelburne of ESPN tweets. A third party called Johnson and told him Leonard wanted to meet with him, Shelburne adds in another tweet.
4:24pm: Kawhi Leonard's representatives plan to meet with Lakers owner Jeanie Buss and former president of basketball operations Magic Johnson next week when free agency begins, Brad Turner of the Los Angeles Times tweets. The meeting will likely take place in Los Angeles, Turner adds.
A Yahoo Sports report on Thursday revealed that Leonard planned on meeting with both L.A. teams along with Raptors and this seems to firm up some of those plans.
The Lakers opened up a max $32MM salary slot for the Finals' Most Valuable Player by agreeing to trade Moritz Wagner, Isaac Bonga, and Jemerrio Jones to the Wizards as part of the Anthony Davis trade. Additionally, Davis has agreed to waive his $4MM trade kicker. The Lakers are hoping to secure Leonard or Kyrie Irving to form an imposing superstar trio with Davis and LeBron James.
James and Davis are planning to be part of the formal pitch to Leonard, Sam Amick of The Athletic tweets.
The presence of Johnson, rather than GM Rob Pelinka, at the proposed meeting is a little curious. Johnson infamously ripped Pelinka in a TV interview after resigning his post, though Johnson did praise Pelinka for pulling off the Davis trade.
Photo courtesy of USA Today Sports Images.