JULY 6: The Magic have officially re-signed Ross, the team announced today in a press release.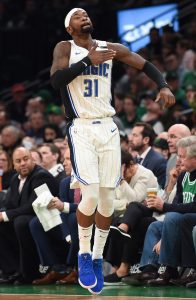 JUNE 30: The Magic will re-sign Terrence Ross to a four-year, $54MM deal, ESPN's Adrian Wojnarowski tweets.
Orlando appears content to run it back with the team that made the playoffs this past season for the first time since it traded away Dwight Howard. The Magic also agreed to re-sign Nikola Vucevic, one of the pieces they received in that 2012 Howard deal.
The Magic acquired Ross in the Serge Ibaka deal during the 2016/17 campaign. He started 81 games for the club last season, posting 15.1 PPG in just 26.5 minutes per game as Orlando's sixth man. He also knocked down 38.3% of his attempts from beyond the arc while jacking up 7.0 per game.
Because the Magic held Ross' Bird rights, no other exception will be required to make the signing official.
We ranked Ross 19th in our list of this year's top 50 free agents.
Photo courtesy of USA Today Sports Images.