4:03pm: Despite their best efforts to find a favorable trade involving Smith, the Cavaliers came up empty and have waived the veteran shooting guard, tweets Shams Charania of The Athletic. Smith, who will receive his $4.37MM partial guarantee from the Cavs, is on track to clear waivers on Wednesday.
8:46am: Barring a last-minute trade, the Cavaliers are expected to waive J.R. Smith today, reports Joe Vardon of The Athletic (Twitter link).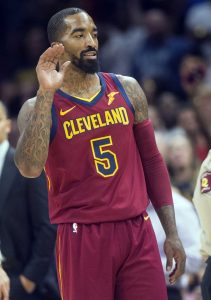 As ESPN's Bobby Marks details (via Twitter), Smith's $15.68MM salary for 2019/20 is currently guaranteed for $4.37MM. That partial guarantee would increase to $5.12MM if he remains under contract beyond today. His deal would become fully guaranteed if he's not waived by July 31.
By cutting Smith today, the Cavs could slip about $2.85MM below the luxury tax line, assuming they stretch his partial guarantee across three seasons, Marks notes (via Twitter).
Smith, who turns 34 in September, hasn't appeared in an NBA game since last November, having reached an agreement to part ways with the rebuilding Cavaliers. However, Cleveland chose not to release him until now because his contract – signed under the old CBA – had the potential to be used in a trade with a team looking to create cap flexibility.
In an article published in March, we explained the appeal of Smith's partially guaranteed deal, while also outlining why its value as a trade chip may be limited due to the Cavs' proximity to the tax threshold for 2019/20.
Smith's contract was originally scheduled to become fully guaranteed on June 30, but he agreed to push his guarantee deadline back in exchange for a slight increase to his partial guarantee. As we relayed over the weekend, Cleveland still had no luck finding a taker for him on the trade market.
Assuming Smith is officially released today, he'll clear waivers on Wednesday and will become an unrestricted free agent at that point.
Photo courtesy of USA Today Sports Images.