The 2019 NBA offseason has been perhaps the craziest in league history. Since the 2018/19 All-NBA teams were announced in May, six of the 15 stars from that group (Paul George, Kawhi Leonard, Kevin Durant, Kyrie Irving, Russell Westbrook, and Kemba Walker) have changed teams.
Current and former All-Stars like Anthony Davis, Chris Paul, Jimmy Butler, D'Angelo Russell, and Al Horford also have new homes. So do impact players such as Mike Conley, Danilo Gallinari, and Malcolm Brogdon.
[RELATED: 2019 NBA Free Agent Tracker]
As NBA teams revamp their rosters, many of them have gotten particularly creative in how they've acquired players within the rules of the league's Collective Bargaining Agreement. Cap space has been maximized. Trade exceptions have been created, used, and re-used. And sign-and-trades have made a comeback in a major way, with 10 players having been dealt via sign-and-trade this offseason (a total of four players were signed-and-traded during the previous four offseasons).
[RELATED: 2019 NBA Offseason Trades]
We're still stepping back and taking stock of all of this summer's salary-cap machinations, but there are a few maneuvers in particular that have stood out to me, which I think are worth highlighting.
These aren't necessarily the cleverest cap maneuvers of the offseason, and these five teams certainly aren't the only ones that have employed creative tactics to acquire players. However, the moves listed below are five of my favorites of the offseason so far.
Let's dive in…
1. The Nets create space to sign Kevin Durant, Kyrie Irving, and DeAndre Jordan without using the room exception.
When the free agent period began, the Nets didn't have quite enough cap room to accommodate maximum salaries for Durant ($38.2MM) and Irving ($32.74MM). Another move appeared to be required to carve out that space.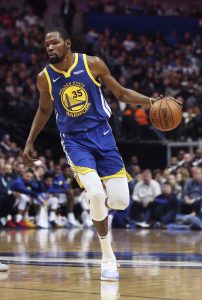 However, not only did the Nets avoid making that extra move, but they also found enough cap room to sign Jordan to a four-year, $40MM deal.
Cap expert Albert Nahmad first broke down the Nets' sequence of events last week, explaining that by retaining their rights to D'Angelo Russell, Shabazz Napier, and Treveon Graham, the Nets were able to sign Irving to a near-max contract and give Jordan a starting salary close to $10MM before going over the cap to acquire Durant in a sign-and-trade.
Irving signed a contract that featured a starting salary just $1MM below his max, though he can make up the difference in unlikely incentives. Once the Nets signed Jordan and second-rounder Nicolas Claxton, the team used nearly every dollar of its leftover room to sign Russell to his new four-year contract.
Because Russell's deal was signed using cap space, base year compensation rules for salary matching didn't apply, meaning the Nets had the ability to use D-Lo's full $27,285,000 first-year salary for matching purposes. However, Brooklyn needed to send out $30,479,200 in order to satisfy the matching rules and take in Durant's new $38,199,000 salary.
In order to bridge that gap, the Nets included Napier and Graham in the deal. Both players had non-guaranteed contracts, which don't count toward a team's outgoing salary total for matching purposes, so Brooklyn gave each player a partial guarantee worth $1,597,100. Combined with Russell's cap hit, those partial guarantees pushed the Nets' outgoing salary total right to the required $30,479,200, essentially allowing them to "sign" Durant to a full max deal without having nearly enough space for it.
Throw in the fact that the Nets managed to get the Warriors' 2020 first-round pick (top-20 protected) in the Durant sign-and-trade, and it turned out to be a very nice piece of business for GM Sean Marks and Brooklyn's front office.
2. The Clippers get in on the Jimmy Butler sign-and-trade while retaining room for Kawhi Leonard and their RFAs.
When the Heat and Sixers first agreed to a sign-and-trade deal involving Butler and Josh Richardson on the opening night of free agency, it appeared that the Mavericks would help accommodate the move by acquiring Goran Dragic from Miami.
However, that deal fell apart over a miscommunication, leaving Miami in a tough spot. Since acquiring Butler via sign-and-trade would hard-cap team salary at $138.9MM, the Heat had to move a contract or two to another team, and that obligation gave them little leverage in trade talks.
The Clippers were the team that ultimately took advantage of the Heat's lack of leverage, agreeing to acquire Maurice Harkless from the Trail Blazers in what turned out to be a four-team trade involving Portland, Miami, and Philadelphia.
Because the Heat were in such a tough spot, they had to send a future first-round pick (their lottery-protected 2023 selection) to the Clippers to entice them to take on Harkless, despite the fact that the forward is on a fairly reasonable $11.5MM expiring contract and is fully capable of being a solid rotation player in 2019/20. The Clippers also acquired the rights to 2017 second-rounder Mathias Lessort from the Sixers in the deal. All they sent out in return was $110K in cash to Miami.
After acquiring Harkless and that first-round pick, the Clippers still had enough cap flexibility to eventually sign Leonard and to keep cap holds for restricted free agents like Ivica Zubac and Rodney McGruder on their books in order to go over the cap to re-sign them. Plus, that first-rounder they acquired from Miami ended up being part of the package they sent the Thunder for Paul George.
While it certainly wasn't their biggest splash of the offseason, landing Harkless and a first-round pick for essentially nothing might have been the savviest move of the Clippers' summer. If I were running a team like the Mavericks (who still have an $11.8MM trade exception available) or the Knicks (who had more than enough cap flexibility to accommodate a Harkless salary dump while still signing several other power forwards), I'd regret not getting involved there.
3. The Grizzlies use a recently-created trade exception to take advantage of the Warriors' cap crunch.
Like the Heat, the Warriors were in desperate need of a salary dump after they agreed to acquire D'Angelo Russell via sign-and-trade. That Russell sign-and-trade would hard-cap them at $138.9MM, which made keeping a player like Andre Iguodala and his $17,185,185 salary a virtual impossibility.
If the Warriors had the opportunity to survey the market for a little longer, or if they'd had the ability to take back any salary, they likely would've found a more favorable deal for Iguodala. Instead, a trade with Memphis was Golden State's best option — along with Iguodala, the Dubs sent the Grizzlies a 2024 first-round pick (top-four protected) and cash ($2MM) in exchange for a two-way player (Julian Washburn) that Memphis was likely about to cut anyway.
The over-the-cap Grizzlies shouldn't have even been in position to take on Iguodala's contract, but they'd managed to create a $25MM trade exception in their Mike Conley deal with the Jazz. That exception allowed them not only to absorb Iguodala's salary, but to later take on Josh Jackson's as well in a swap with the Suns that landed them a couple more second-round picks.
Acquiring that lightly-protected first-rounder from the Warriors was a solid move on its own by the Grizzlies. If Memphis can turn around and trade Iguodala for positive value rather than just buying him out, it'll become one of the offseason's very best series of deals. It remains to be seen whether that's possible, but the Grizzlies are said to be trying, and their odds look good.
4. The Nuggets use a trade exception in place of their mid-level exception.
After exercising Paul Millsap's $30MM+ team option prior to the free agent period, the Nuggets were totally capped out, with more than $121MM committed to team salary. That left them with their full mid-level exception ($9.25MM) to find a potential impact player on the free agent market — the club was in position to use its full MLE without going into tax territory.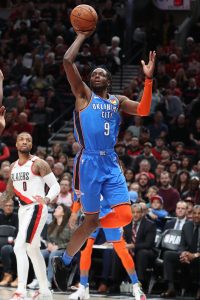 However, Denver hasn't historically been a top destination for free agents, and – sure enough – the Nuggets were one of the league's least active teams during the July moratorium. Only Denver and Cleveland failed to agree to terms with a single veteran free agent during the first week of July.
Faced with the possibility of potentially just trying to negotiate a new contract with restricted free agent Trey Lyles, the Nuggets instead pivoted to the trade market, taking advantage of the newly-retooling Thunder and striking a deal to acquire Jerami Grant in exchange for their protected 2020 first-round pick.
A $12MM+ trade exception generated from last summer's Wilson Chandler swap with Philadelphia gave the Nuggets the ability to acquire Grant — Denver made use of that exception on the day before it would have expired.
Grant's $9.35MM salary essentially makes him a mid-level signing, but he's a more talented, versatile option than any of the free agents who were still available on the open market. He's a perfect fit in Denver, and even though he might opt out in 2020, the club will have his Bird rights, creating an opportunity to lock him up to a longer-term deal.
The first-round pick the Nuggets had to gave up is the only downside of the swap, but that selection should fall in the late-20s as long as Denver – the No. 2 team in the West this past season – can match or exceed last year's win total. Grant should help them do that.
5. The Timberwolves land a restricted free agent by maximizing a just-created trade exception.
It remains to be seen what sort of NBA player Jarrett Culver will be, but if the Timberwolves are as high on him as they say, they did well to only give up the No. 11 pick and Dario Saric to move up to No. 6 for him. Saric will be a restricted free agent in 2020 and apparently wasn't part of the Wolves' long-term plans under new president of basketball operations Gersson Rosas.
In that trade with Phoenix, Minnesota created a traded player exception worth Saric's 2019/20 salary: $3,481,986. Shortly thereafter, the team pursued Trail Blazers restricted free agent Jake Layman. While the Wolves could have used their mid-level exception to sign Layman to an offer sheet and hoped that Portland wouldn't match it, they took another route, working out a sign-and-trade agreement with the Blazers.
In most other sign-and-trade deals involving restricted free agents this offseason, the acquiring team had to surrender a couple draft picks. Memphis got two second-rounders from Dallas for Delon Wright; Washington acquired a second-round pick, the rights to swap another, and the protections removed on the third by sending Tomas Satoransky to Chicago; Milwaukee secured two second-round picks and a first-rounder from Indiana for Malcolm Brogdon.
The Wolves, however, managed to acquire Layman from the Blazers while only giving up the draft rights to 2013 second-rounder Bojan Dubljevic. With no salary being sent to Portland, Minnesota relied on that just-created Saric trade exception to take on Layman, maximizing its value.
Trade exceptions allow teams to take back a salary worth the amount of exception plus $100K, so the Wolves' new deal with Layman will start at $3,581,986, as Jeff Siegel of Early Bird Rights confirms. Minnesota couldn't have offered a dollar more to Layman using the Saric exception, and may not have been in position to trade for him at all without having created that TPE.
Photos courtesy of USA Today Sports Images.