JULY 7: The trade is official, the Suns announced in a press release.
JULY 3: The Grizzlies and Suns have agreed to a trade that will send newly-acquired Memphis sharpshooter Kyle Korver to Phoenix along with Jevon Carter, reports ESPN's Adrian Wojnarowski (via Twitter). According to Wojnarowski, the Grizzlies will receive Josh Jackson, De'Anthony Melton, a 2020 second-round pick, and a conditional 2021 second-round pick in the deal.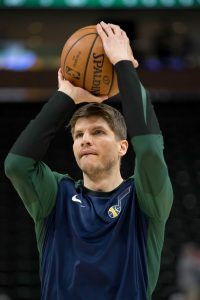 That 2021 Suns second-rounder will only change hands if it falls between 31-35, tweets Chris Herrington of The Daily Memphian. Brooklyn will receive it if it lands between 36-60.
Because Korver is part of the Mike Conley trade with Utah that hasn't yet been completed, this deal can't be made official until after the one is finalized. Once both deals are done, the Grizzlies will pick up a former No. 4 overall pick (Jackson), as well as a second-rounder from last year's draft (Melton), along with at least one future second-round pick.
In two NBA seasons, Jackson has been inconsistent for the Suns, averaging 12.3 PPG and 4.5 RPG but shooting just .415/.294/.650 in 156 total contests (25.3 MPG). He has also faced questions about his maturity and off-court behavior.
However, he's still just 22 years old, so the Grizzlies will get the opportunity to see if they can continue to develop him and help him reach his ceiling. They'll also have to decide by the end of October whether to pick up $8.9MM option for 2020/21 — at this point, I'd be surprised if they do.
Melton, the 46th overall pick in 2018's draft, is another intriguing roll of the dice for Memphis, one the team has long had its eye on, per Wojnarowski (Twitter link). The former USC Trojan is considered a strong defender, and started 31 games for the Suns in his rookie season, averaging 5.0 PPG, 3.2 APG, 2.7 RPG, and 1.4 SPG in 50 total contests.
As for the Suns' side, the move looks like it's primarily designed to clear the cap room necessary to complete their other reported moves this week, including Ricky Rubio's three-year, $51MM deal. They'll also be able to retain Kelly Oubre's cap hold, and will presumably see if Carter can earn some minutes in their backcourt rotation.
According to Wojnarowski (via Twitter), Korver is expected to be bought out by Phoenix before his $7.5MM salary for 2019/20 becomes fully guaranteed. Korver's deal is only partially guaranteed for $3.44MM as long as he doesn't remain under contract through July 7.
If and when Korver clears waivers, the Lakers, Bucks, and Sixers will be the frontrunners to sign him, says Wojnarowski.
As cap expert Albert Nahmad observes (via Twitter), the Grizzlies will be able to use trade exceptions to absorb Jackson's and Melton's contracts, generating two new trade exceptions worth $3.44MM (Korver's partial guarantee) and $1.42MM (Carter's salary).
Photo courtesy of USA Today Sports Images.