The Heat have reached an agreement on a trade to send center Hassan Whiteside to the Trail Blazers, according to Adrian Wojnarowski of ESPN.com, who reports (via Twitter) that Portland is giving up Maurice Harkless and Meyers Leonard in the deal.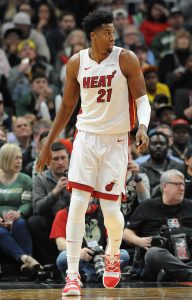 [UPDATE: Harkless to be re-routed to Clippers in four-team trade]
In acquiring Whiteside, the Blazers will secure a replacement at the five for Enes Kanter, who looks like a good bet to sign elsewhere. Whiteside figures to start at center for the Trail Blazers while Jusuf Nurkic continues to recover from a leg injury that is expected to sideline him well into the 2019/20 regular season.
Whiteside, 30, saw his role in Miami decline over the last couple years, but continued to put up strong numbers on a per-minute basis. In 72 games in 2018/19, the big man averaged 12.3 PPG, 11.3 RPG, and 1.9 BPG in just 23.3 minutes per contest.
While the Blazers will fortify their center position in the deal, their perimeter defense will take another hit. Having already lost Al-Farouq Aminu in free agency to Orlando, Portland will now part with Harkless as well. Newly-acquired forward Kent Bazemore will be leaned on heavily to help replace that duo.
As for the Heat, they'll move on from Whiteside, who hadn't been thrilled about having his minutes cut back during the last two seasons, publicly griping about his role on more than one occasion. Miami won't have to take back any long-term salary in the deal, as all three players are on expiring contracts, and will save about $4.8MM based on the difference in salaries between Whiteside ($27.1MM) and the combo of Leonard ($11.3MM) and Harkless ($11MM).
Those savings could come in handy, since the Heat will face a hard cap of $138.9MM by acquiring Jimmy Butler via sign-and-trade. Speaking of that Butler trade, cap expert Albert Nahmad notes (via Twitter) that moving Whiteside won't help solve the salary-matching issue Miami faces in that deal, so at least one more move will be required.
With Whiteside out of the picture, Bam Adebayo projects to take an ever larger role in Miami's frontcourt.
Photo courtesy of USA Today Sports Images.