7:58pm: The 2023 first-round pick being sent from the Heat to Clippers will be lottery-protected through 2025, then unprotected in 2026, tweets Anthony Chiang of The Miami Herald.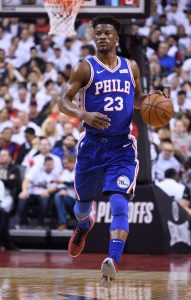 5:00pm: The Clippers will receive a protected 2023 first-round pick from the Heat in the deal, according to ESPN's full report.
4:17pm: The sign-and-trade deal that will send Jimmy Butler to the Heat and Josh Richardson to the Sixers has been agreed upon, according to ESPN's Adrian Wojnarowski and Zach Lowe (Twitter link).
As Wojnarowski explains (via Twitter), the trade between the Trail Blazers and Heat that will send Hassan Whiteside to Portland is becoming part of the transaction, with Maurice Harkless being re-routed to the Clippers to make it a four-team deal.
The Clippers will also receive a future first-round pick from Miami, according to Wojnarowski. Since the Heat have already traded their 2021 first-round selection to the Clippers and can't give away consecutive future first-rounders, the next one that is trade-eligible would be the 2023 selection, tweets ESPN's Bobby Marks.
As part of the four-team swap, the Sixers will send the draft rights to 2017 second-rounder Mathias Lessort to the Clippers, reports Keith Pompey of The Philadelphia Inquirer (Twitter link).
As of now then, this is what the deal would look like:
After acquiring Harkless, the Clippers will still have a maximum-salary slot available in the event that Kawhi Leonard decides to join them, tweets Marks. It would be a tight fit though, notes ESPN's Zach Lowe, who tweets that the club might have to renounce a couple of small cap holds. Obviously, if Leonard decides to go elsewhere, that wouldn't be necessary.
As for the Heat, they had let Goran Dragic's camp know that they'd likely to need to move the point guard in order to complete the Butler acquisition, but that shouldn't be necessary after all, tweets Barry Jackson of The Miami Herald.
Still, as Marks points out (via Twitter), Miami will have to make an additional move to make sure it gets below the hard cap $138.9MM that applies to teams that acquire a player via sign-and-trade. Waiving and stretching Ryan Anderson's contract looks like the most logical path for the Heat.
We have more details in other stories on the Butler/Richardson aspect of this deal, as well as the Blazers' Whiteside acquisition.
Photo courtesy of USA Today Sports Images.