JULY 7: The Jazz have made it official, announcing in a press release that they've signed Bogdanovic.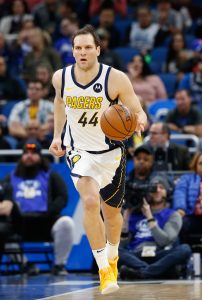 JUNE 30: The Jazz have agreed to a four-year, $73MM deal with free agent Bojan Bogdanovic, tweets Adrian Wojnarowski of ESPN.
Bogdanovic scored a career-high 18 points per game last season with Indiana, also holding career-best shooting marks of 49.7% from the field and 42.5% from 3-point range. The Jazz have agreed to trade veteran forward Derrick Favors – who has a $17.65MM non-guaranteed salary – to New Orleans to clear space for the incoming forward.
Utah plans to add Bogdanovic, a talented offensive option on the wing, to a roster that already includes the likes of Mike Conley, Donovan Mitchell, Joe Ingles and Rudy Gobert.
In addition to Bogdanovic, the Jazz also agreed to a two-year, $10MM deal with free agent forward Ed Davis.
As for the Pacers, they pivoted away from Bogdanovic – and many of their other free agents – by agreeing to acquire T.J. Warren, Malcolm Brogdon, and Jeremy Lamb.
Photo courtesy of USA Today Sports Images.