JULY 6: Walker's new deal with the Celtics is official, according to a tweet from the team. Walker was among the first free agents to commit to his new team when free agency began last Sunday.
JUNE 30, 5:24pm: Walker and the Celtics are formally in agreement on a four-year max deal, tweets Wojnarowski. As we detailed in our story of the Hornets' agreement with Rozier, Boston is working on adding Kemba via sign-and-trade.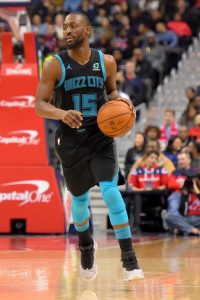 JUNE 30, 2:14pm: Adrian Wojnarowski of ESPN is reporting that while talks remain exploratory in nature, the Celtics have shown interest in a three-team sign-and-trade with Irving, Walker, and Rozier (to the Hornets). Per Woj, the Celtics are interested in having the MLE at their disposal as opposed to the room exception. Woj also adds that the Nets would likely command a first-round pick from Boston for agreeing to a S&T.
JUNE 29, 3:39pm: Free agent point guard Kemba Walker has conveyed to the Hornets that he intends to sign with the Celtics when the NBA's new league year begins, multiple sources tell Rick Bonnell of The Charlotte Observer (Twitter link).
Boston has been viewed as Walker's likely landing spot in recent days, having emerged as the frontrunner for the All-NBA point guard earlier in the week.
Kemba intends to sign a four-year, maximum-salary contract (worth a projected $141MM), tweets Shams Charania of The Athletic. He'll be in Boston on Sunday night to finalize an agreement with the C's, league sources tell ESPN's Adrian Wojnarowski (Twitter link).
A three-time All-Star, Walker had perhaps the best year of his NBA carer in 2018/19, establishing a new career-high in PPG (25.6) while also contributing 5.9 APG and 4.4 RPG with a shooting line of .434/.356/.844.
Despite receiving little offensive help in Charlotte, Walker managed to keep the team in the playoff hunt for most of the season, though the Hornets ultimately fell short and finished in the lottery. If Walker had returned to Charlotte, the team would have been up against the luxury tax and would have had a hard time improving its roster around him, so the former UConn star will move on to a potential contender despite the fact that the Hornets could have offered him more money over more years.
Walker will join a Celtics roster that is set to feature Gordon Hayward, Jaylen Brown, Jayson Tatum, and Marcus Smart, so it will be fascinating to see what he can do in Boston without receiving quite as much attention from opposing defenses. The opportunity to play alongside those Celtics veterans and potentially go deep in the playoffs was a key factor in Walker's decision, a source tells Jeff Goodman of Stadium (Twitter link).
The C's are expecting to lose Al Horford and, of course, Kyrie Irving, who has been rumored to be focused on Brooklyn. With Walker heading to Boston to replace Irving, the Hornets are scouring the free agent market for possible point guard targets of their own, according to Wojnarowski, who tweets that Elfrid Payton, T.J. McConnell, Ish Smith, and Emmanuel Mudiay are among the options being considered by Charlotte.
Terry Rozier's name has also been linked to the Hornets, though it's unlikely that he'd be a viable option unless Charlotte and Boston can work out some sort of sign-and-trade arrangement, which is a long shot. By withdrawing Rozier's qualifying offer and renouncing his cap hold, the Celtics will have enough room to sign Walker outright to a max deal, even with Daniel Theis' QO still on their books.
In addition to Boston and Charlotte, the Mavericks and Knicks had also been considered potential contenders for Walker.
Photo courtesy of USA Today Sports Images.