JULY 16: The Sixers have officially signed Simmons to his new extension, the team announced today in a press release.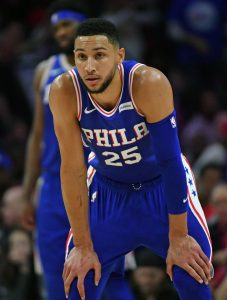 "Ben Simmons is an important piece of our core and he is one of the NBA's most dynamic and talented young players," GM Elton Brand said in a statement. "It was a priority for our organization that we finalize a contract extension with Ben this summer. He was Rookie of the Year in his first season, an All-Star in his second and we expect him to continue grow and succeed for seasons to come. Ben positively impacts the game in so many ways and we look forward to continuing our championship pursuits with him as one of our leaders."
JULY 15: The Sixers and Ben Simmons have reached a deal on a five-year, maximum-salary contract extension, agent Rich Paul tells Shams Charania of The Athletic (Twitter link). The agreement had been anticipated after Philadelphia put a max extension offer on the table for Simmons near the start of free agency.
Based on the NBA's current cap projections for 2020/21, which is when Simmons' new deal will begin, a five-year, maximum-salary contract will pay him $169.65MM.
The Sixers and Simmons could agree to language that would push that figure as high as $203.58MM in the event that he earns an All-NBA spot next season, but there's no indication yet that those Rose Rule conditions will be included in the agreement. For what it's worth, Charania pegs the value of the contract at $170MM.
Simmons, who will turn 23 on Saturday, has established himself as one of the NBA's most dynamic young play-makers since being selected first overall in the 2016 draft. After missing his rookie season for health reasons, he has averaged 16.4 PPG, 8.5 RPG, 7.9 APG, and 1.6 SPG in 160 regular season contests for Philadelphia over the last two years.
While Simmons is one of the league's most dangerous creators in transition and can go off for a triple-double on any given night, the Sixers will be looking for him to expand his half-court game and to add a more consistent jump shot to his repertoire going forward.
With a lucrative new deal for Simmons hitting their books in 2020/21, the Sixers will have to take their long-term luxury tax outlook into account when making roster moves. Having made major financial commitments to Joel Embiid, Tobias Harris, and Al Horford too, Philadelphia already projects to be $6MM+ over the tax line for '20/21 with only 11 players under contract so far, tweets Jeff Siegel of Early Bird Rights.
Siegel also observes (via Twitter) that Simmons and Embiid are both now "designated rookies" for the Sixers, having signed five-year extensions before their rookie contracts expired.
An NBA team is permitted to have up to two designated rookies on its roster at a time (including no more than one via trade), so the Sixers wouldn't be able to add a third until Embiid's contract expires in 2023, unless they trade away Simmons or Embiid. It's the same rule that prevented the Celtics from acquiring Anthony Davis last season while they were carrying Kyrie Irving.
Photo courtesy of USA Today Sports Images.