JULY 12, 5:41pm: The signing is official, according to a team press release.
JULY 11, 6:39pm: The Spurs have reached a contract agreement with free agent forward Trey Lyles, reports ESPN's Adrian Wojnarowski (via Twitter). It'll be a two-year deal, according to Shams Charania of The Athletic (Twitter link). Jabari Young of The Athletic adds (via Twitter) that it'll be worth about $11MM in total.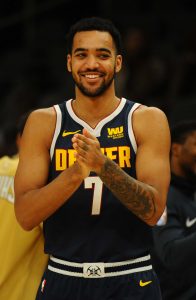 Lyles will be joining the Spurs in place of Marcus Morris, who tentatively agreed to a two-year, $19MM contract with San Antonio but will instead be signing a one-year, $15MM deal with New York. Wojnarowski suggests that the Spurs pulled their offer to Morris, but the veteran forward had reportedly been re-evaluating his options for at least a couple days.
Lyles is coming off a down year in Denver, having posted just 8.5 PPG and 3.8 RPG with a shooting line of .418/.255/.698 in 64 games (17.5 MPG). However, he flashed promising stretch-four potential in 2017/18, when he posted marks of 9.9 PPG and 4.8 RPG on .491/.381/.706 shooting.
The Nuggets originally tendered him a qualifying offer, but rescinded that QO after they acquired Jerami Grant in a trade with the Thunder, making Lyles an unrestricted free agent.
The Spurs had initially planned on signing DeMarre Carroll using their mid-level exception, but restructured that agreement to acquire Carroll via sign-and-trade, sending Davis Bertans to Washington and opening up the full mid-level for Morris. With that deal no longer happening, I'd expect Lyles to be signed using some of that MLE, though specific terms aren't yet known.
Lyles may not provide the same sort of immediate impact that Morris would have, but he's still just 23 years old and his '17/18 performance suggests he has room to improve.
Photo courtesy of USA Today Sports Images.