JULY 6: The trade is official, according to an announcement from the Pacers. It became a three-team trade, with Indiana sending the rights to No. 32 pick KZ Okpala to Miami in exchange for three second-rounders.
JUNE 20: The Pacers and Suns have reached a trade agreement that will send T.J. Warren to Indiana, reports ESPN's Adrian Wojnarowski (Twitter link). According to Wojnarowski (Twitter links), the Pacers will also acquire the No. 32 overall pick from Phoenix and will take on Warren using cap room, sending cash to the Suns to complete the deal.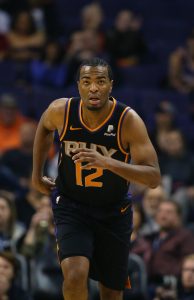 The trade looks like a straight salary dump for the Suns, who will move Warren with three years and $35.25MM left on his contract. Phoenix wanted to unload Warren – who will earn $10.81MM in 2019/20 — in order to open up more cap space, per Wojnarowski.
The Suns had a logjam at the small forward position and didn't project to have much – if any – cap room this offseason, so the trade addresses both issues, though it will cost them a pretty good draft pick and a pretty good player with little return.
Injuries limited Warren to just 43 games in 2018/19, but he was a very effective scorer when he did play, averaging 18.0 PPG, 4.0 RPG, 1.5 APG, and 1.2 SPG with a .486/.428/.815 shooting line.
Assuming Phoenix keeps the cap hold for restricted free agent Kelly Oubre on its books, the team now projects to have about $21MM in cap room once the trade is finalized in July, tweets ESPN's Bobby Marks. That space will give the club more flexibility to go after a starting-caliber point guard on the open market, but still won't be enough for a maximum-salary offer.
As for the Pacers, many of their key rotation players are headed for free agency this summer, so they'll have plenty of cap room to take on Warren. Acquiring him will also reduce some of the uncertainty surrounding those free agents — the team could have a little added leverage in negotiations with the likes of Bojan Bogdanovic or Thaddeus Young with Warren now under control.
According to Marks, the Pacers will still have nearly $31MM in cap room available once the acquisition of Warren is finalized, though that projection doesn't account for Bogdanovic's cap hold.
[RELATED: Pacers eyeing Ricky Rubio]
Indiana now controls three picks in tonight's draft, adding the No. 32 selection to Nos. 18 and 50. The Suns are left with just the No. 6 overall pick.
Tim MacMahon of ESPN.com first reported earlier today that the Pacers were among the teams with interest in Warren.
Photo courtesy of USA Today Sports Images.