4:33pm: The Nuggets have officially announced the trade, making it official.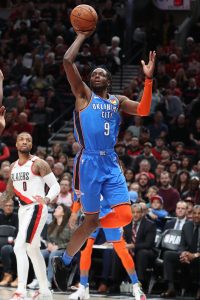 12:26pm: The first-round pick going to the Thunder for Grant will be top-10 protected for the next three drafts, according to ESPN's Zach Lowe (Twitter link), who adds that it would convert into two second-rounders in the very unlikely event it doesn't convey by 2022.
9:37am: The Nuggets and Thunder have agreed to a trade that will send forward Jerami Grant to Denver, reports ESPN's Adrian Wojnarowski (via Twitter). League sources tell Wojnarowski that Oklahoma City will receive a 2020 first-round pick in exchange for Grant.
Grant, 25, enjoyed his best season as a pro in 2018/19 as the Thunder's starting power forward, averaging 13.6 PPG, 5.2 RPG, and 1.3 BPG with a shooting line of .497/.392/.710. He has one guaranteed year left on his contract, plus a player option for 2020/21.
After surrendering their 2019 first-round pick to shed salary and get out of the tax, the Nuggets will give up next year's pick in order to add a quality veteran contributor to their frontcourt, which had been their biggest area of need. Denver had been quiet this past week in free agency, with $121MM+ in guaranteed money already on the club's books.
The Nuggets will retain their mid-level exception, since Grant will be absorbed using one of the team's sizable trade exceptions from last summer's salary dumps. However, team salary is now above $130MM and inching close to the tax line, so I wouldn't expect Denver to make any major signings. The acquisition of Grant may also make RFA power forward Trey Lyles expendable.
The trade will be a cost-cutting move for the Thunder, who are retooling their roster after agreeing to trade Paul George to the Clippers. Wojnarowski projects that sending Grant to Denver will save OKC approximately $39MM in salary and luxury-tax penalties, despite the fact that Grant is only earning about $9.35MM in 2019/20.
Those savings are fluid and will depend on subsequent roster moves made by the Thunder, but that $39MM estimate is a reflection of how punitive the repeater taxpayer penalties would be for the franchise this season. OKC remains above the $132.63MM tax threshold for now, but not by much — the club could conceivably get below that line with another move.
In addition to saving money, the Thunder will generate a trade exception worth Grant's salary ($9.35MM) and will acquire their sixth future first-round pick of the week, having secured five first-rounders in the George trade. That PG13 deal also landed Oklahoma City its new starting power forward, as Danilo Gallinari projects to take Grant's place in the club's starting lineup.
Of course, with George and Grant headed for new homes, trade rumors surrounding Russell Westbrook figure to multiply. We rounded up the latest updates and speculation about a possible Westbrook trade on Sunday.
Photo courtesy of USA Today Sports Images.