JULY 3: The Trail Blazers have officially signed Tolliver, the team announced today in a press release. Minimum-salary contracts can be finalized during the July moratorium.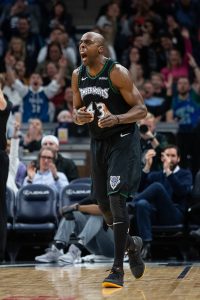 JULY 1: The Trail Blazers and free agent power forward Anthony Tolliver have reached an agreement on a one-year deal worth $2.6MM, reports Shams Charania of The Athletic (via Twitter).
Based on the reported terms, it appears to be a veteran's minimum deal for Tolliver, as he's eligible for a $2,564,753 minimum salary in 2019/20. Portland also reportedly committed its taxpayer mid-level exception to Rodney Hood already, limiting the club's ability to offer other free agents more than the minimum.
Tolliver, 34, has been one of the NBA's more effective under-the-radar stretch fours in recent years. He struggled a little in Minnesota last season, averaging just 5.0 PPG and 2.7 RPG in 65 games (16.6 MPG), but he has knocked down 1.6 threes per game at a 40.7% rate over the last three seasons for the Kings, Pistons, and Timberwolves.
Tolliver will help provide much-needed outside shooting in the frontcourt for a Portland team that has lost Al-Farouq Aminu in free agency and is trading away Maurice Harkless and Meyers Leonard to acquire Hassan Whiteside.
Photo courtesy of USA Today Sports Images.