When a star player like Zion Williamson enters the NBA, his new team – in this case, the Pelicans – can rest assured that there will be little to no chance of him holding out for a larger contract. That's because a first-round NBA draft pick is only eligible to sign a rookie scale contract, which limits his leverage and ensures that his draft slot will dictate how much he gets paid.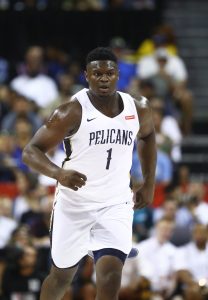 A rookie scale contract for first-rounders is always for two guaranteed seasons, with team options for the third and fourth seasons of the deal. The scale amount is strictly set by draft position for the first three years of the contract, with the amount of the fourth year determined by a percentage raise on the third-year salary, as RealGM's rookie scale chart for 2019 picks shows.
Players are eligible to sign for as little as 80% or as much as 120% of the scale amount, though almost every player signs for the full 120%. Cavaliers first-round pick Kevin Porter Jr. became the first player in several years to sign for just 80% of his rookie scale amount this year, and even that rate only applies to his rookie season — he'll get the full 120% in years two through four.
[RELATED: Rookie Scale Salaries For 2019 First-Round Picks]
Under the NBA's current Collective Bargaining Agreement, the rookie scale will eventually increase annually at the same rate as the salary cap. In that scenario, a 5% salary cap increase would mean a 5% increase to rookie scale salaries.
However, the league has been gradually phasing in a 45% overall increase to rookie salaries over the last three seasons (15% per year), complicating that formula. For instance, while the cap only increased by about 7.1% from 2018/19 to 2019/20, the rookie scale amounts for each pick increased by approximately 19.5%.
For the 2019/20 season, the first-year rookie scale amount for the first overall pick is $8,131,200. That number increases to $8,537,900 in year two and $8,944,500 in year three, with a 26.1% raise for year four and a 30% raise for a fifth-year qualifying offer. Williamson signed with the Pelicans for 120% of that amount, meaning his contract looks like this:
| Season | Salary |
| --- | --- |
| 2019/20 | $9,757,440 |
| 2020/21 | $10,245,480 |
| 2021/22 | $10,733,400 |
| 2022/23 | $13,534,817 |
| 2023/24 | $17,595,262 |
Team option in green

Qualifying offer in blue
The scale amounts and fourth- and fifth-year raises vary depending on draft position. Top picks earn the highest salaries, while late first-round picks get the most substantial bumps at the end of their contracts. For instance, the 30th overall pick gets an 80.5% raise between years three and four, with a qualifying offer increase of 50%.
Here are several more details relating to rookie scale contracts:
Only first-round picks are eligible for rookie scale contracts. Second-rounders must be signed using cap room or exceptions.
A team does not have to be under the cap to sign rookie scale contracts. Any team can give a first-rounder a full 120% rookie contract, regardless of its cap status.
Because 120% contracts are so common, the cap hold for a first-round pick is also 120% of the player's rookie scale amount.
If a player hasn't signed by January 10, his rookie scale amount becomes prorated each day for the remainder of the season until he signs.
Teams have until October 31 each year to make decisions on the team-option seasons in rookie scale contracts. By October 31, 2019, teams will have to decide on the options for the 2020/21 season.
Players coming off rookie-scale contracts may be eligible for larger or smaller qualifying offers in their fifth year, based on whether or not they meet the "starter criteria." I explained this in greater detail here.
If a team signs a first-round pick within three years of drafting him, the rookie scale for the year in which he signs is used. For instance, the Sixers acquired 12th overall pick Dario Saric in a draft-night deal in 2014. When Saric arrived stateside two years later, he signed a contract based on the rookie scale salary for the No. 12 pick in 2016.
Note: This is a Hoops Rumors Glossary entry. Our glossary posts will explain specific rules relating to trades, free agency, or other aspects of the NBA's Collective Bargaining Agreement. Larry Coon's Salary Cap FAQ and salary information from Basketball Insiders was used in the creation of this post.

An earlier version of this post was published in 2012. Photo courtesy of USA Today Sports Images.