SEPTEMBER 4: Gordon's extension with the Rockets is now official, the team announced today in a press release.
AUGUST 30: The Rockets and shooting guard Eric Gordon have reached an agreement on a four-year contract extension, according to Jonathan Feigen of The Houston Chronicle, who reports that the deal will be worth approximately $75.6MM.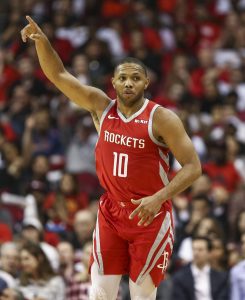 Gordon had been entering the final year of his current contract and will earn a $14,057,730 salary in 2019/20. His new deal will lock him up through the 2023/24 season and brings the total value of his next five years to nearly $90MM.
However, Gordon isn't assured of receiving that full amount, as the final year of his new contract is non-guaranteed, according to ESPN's Adrian Wojnarowski (via Twitter). It would become guaranteed if he makes an All-Star team or the Rockets win a championship, a league source tells Woj.
The starting salary of a veteran contract extension can only be worth up to 120% of the player's previous salary, so Gordon's new deal will technically be worth his maximum extension value. A 120% bump on this year's salary will bring him to $16.87MM in 2020/21. Annual 8% raises going forward will give him salaries of $18.21MM (2021/22), $19.57MM (2022/23), and $20.92MM (2023/24) over the rest of the contract.
Although Gordon could have potentially landed a larger payday on the open market as a free agent next summer, agreeing to a deal now gives him long-term security into his mid-30s and takes off some pressure in what would have been a contract year. It will also remove another talented unrestricted free agent from a 2020 free agent market that was already considered weak.
Gordon, 30, has spent the last three seasons with the Rockets, serving as one of the team's go-to scoring options behind perennial MVP candidate James Harden. In 2018/19, the former No. 7 overall pick averaged 16.2 PPG on .409/.360/.783 shooting in 68 games (31.7 MPG). Gordon has also been Houston's most consistent outside threat besides Harden, averaging exactly 8.8 three-point attempts per game in each of the last three years.
The Rockets now have virtually their entire core locked up for several years. Harden and Russell Westbrook are each under contract through at least 2022, with player options for the 2022/23 season. Clint Capela's fully guaranteed deal runs through '22/23. P.J. Tucker, who is reportedly seeking an extension as well, has two more years left on his current pact.
As Jeff Siegel of Early Bird Rights observes (via Twitter), Gordon can't be traded during the 2019/20 season as a result of the extension, since it exceeds the extend-and-trade restrictions and makes him ineligible to be dealt for six months. That restriction won't lift until after the 2020 deadline.
Photo courtesy of USA Today Sports Images.