OCTOBER 26, 2:30pm: The Cavaliers have officially signed Osman to his four-year extension, the team announced today in a press release.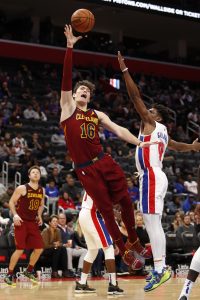 OCTOBER 24, 8:59pm: In his full story for Cleveland.com, Fedor details that Osman will earn $8.75MM, $8.05MM, $7.35MM, and $6.65MM (non-guaranteed) over the life of the extension.
OCTOBER 24, 7:48pm: According to Marc Stein of The New York Times, the Cavaliers and forward Cedi Osman have agreed to a four-year, $31MM contract extension, per Osman's representatives. Brian Windhorst of ESPN adds that the figure is $30.8MM and that the final year of the extension is non-guaranteed.
The extension, which will begin next season, will keep the 24-year-old Macedonian under team control through the 2023/24 season. Four seasons is the longest extension Osman could have received, as veteran contract extensions (besides super-max deals) are limited to five total seasons, counting the years remaining on the current contract.
Osman, who is scheduled to make just over $2.9MM this season in the last year of his current deal, could have earned up to 120% of the estimated average salary in the first year of the extension, or just under $11.5MM. Clearly, he'll not reach that figure based on the reported value of the deal.
Chris Fedor of Cleveland.com hears that Osman's salary will decline over the life of the contract and Bobby Marks of ESPN adds that his 2020/21 salary will be $8.6MM. At a decline of 8% per season – the maximum amount allowed under the CBA – Osman's contract would be worth just under $30.3MM, which is close to the figures reported by Stein and Windhorst.
The Cavaliers will surrender some cap flexibility this upcoming offseason by signing Osman to a deal with a first-year salary about $3.1MM higher than his cap hit would have been, but with so many other potential free agents signing extensions, the Cavs were smart to lock up Osman for the future.
Photo courtesy of USA Today Sports Images.