If you missed any of this past week's biggest headlines from around the NBA, we've got you covered with our Week in Review. Here are some of the most noteworthy stories from the last seven days:
A Daryl Morey tweet expressing support for protestors in Hong Kong created an international incident between the NBA and China. While the Rockets general manager quickly deleted his tweet, Chinese officials and businesses didn't took exception to it, with many of them suspending or cancelling partnerships with the NBA. The Lakers and Nets still went ahead and played two exhibition games in China this week, but those games weren't televised by CCTV. All of our stories on the controversy can be found right here.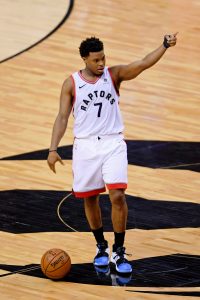 The Raptors and Kyle Lowry agreed to a one-year contract extension. The one-year, $31MM deal will keep the veteran point guard locked up through the 2020/21 season without impacting Toronto's long-term cap flexibility.
Buddy Hield expressed a strong desire to sign a contract extension with the Kings this month. The two sides face an October 21 deadline, with Hield on track for restricted free agency in 2020 if a deal doesn't get done now. "I'm ready to make things happen, man," Hield said. "I want to make Sacramento my home. I'm ready to get this s–t done. I want to be here and if it doesn't happen, then things can go the other way."
Kevin Durant made waves by claiming that younger players don't consider the Knicks a "cool" franchise. As Durant explains, those younger players don't remember a time when the Knicks were a contender and don't consider the team's brand to be a strong as that of the Warriors or Lakers.
The Pistons and Andre Drummond are reportedly exploring a contract extension. The two sides are said to be "talking at a business level" and have exchanged numbers on a new deal for the All-Star center.
Here are 10 more noteworthy headlines from around the basketball world this week:
Photo courtesy of USA Today Sports Images.