Things have gone from bad to worse this season for the Warriors, as Stephen Curry suffered a broken left hand during the team's game against Phoenix on Wednesday night, reports Marcus Thompson of The Athletic (Twitter link). The club has confirmed Thompson's report.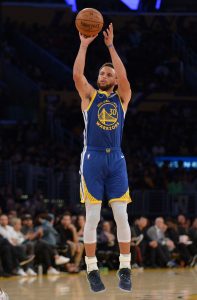 According to Kerith Burke of NBC Sports California (Twitter link), Warriors president of basketball operations Bob Myers said Curry will undergo a CT scan on his hand to see if surgery is required. The club doesn't yet have an estimate on a potential recovery timetable, but it's safe to assume the two-time MVP will miss some time.
Although the Warriors picked up their first win of the season on Monday against New Orleans, it has otherwise been a disastrous start to the season for the franchise that has won the Western Conference for five consecutive years. The Dubs were blown out in their home opener by the Clippers last Thursday, then run off the court in Oklahoma City on Sunday.
In Wednesday's contest, Golden State's third loss, the Suns built a 43-14 lead by the end of the first quarter, fueled by a shocking 30-1 run. Curry's injury occurred later in the game when he drove to the net and landed awkwardly, bracing his fall with his left hand just before Baynes fell on that hand (video link).
Golden State entered this season expecting to lean heavily on Curry, Draymond Green, and D'Angelo Russell, with Klay Thompson recovering from an ACL tear and without a ton of quality depth surrounding those stars. Now that both Splash Brothers project to be on the injured list for the foreseeable future, the Warriors' playoff chances look much slimmer.
The Warriors' cap situation will make things even more difficult moving forward. The team is right up against a hard cap and can't add a 15th man, let alone apply for a hardship exception for a 16th.
As ESPN's Bobby Marks observes (via Twitter), Golden State still has more than eight healthy players on its roster, meeting the league's minimum requirements, so the club is handcuffed for now. Even if that number dipped below eight, the Warriors' hard cap means they'd have to petition the NBA to add a player, Marks adds (via Twitter).
It's too early to call this a lost season for the Warriors, especially since we don't yet know how much time Curry will miss. But that hasn't stopped NBA writers from drawing comparisons to the 1996/97 Spurs, who bottomed out (a year after winning 59 games) due primarily to a season-ending David Robinson injury.
Photo courtesy of USA Today Sports Images.