If you missed any of this past week's biggest headlines from around the NBA, we've got you covered with our Week in Review. Here are some of the most noteworthy stories from the last seven days: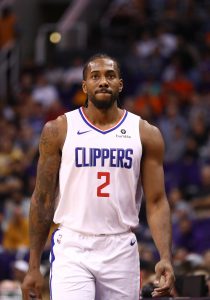 Kawhi Leonard's load management plan drew a lot of complaints this week when it wiped out a potential matchup with Giannis Antetokounmpo, but the league decided that the way the Clippers are handling their new star is within the rules. However, the NBA office later fined the team $50K for making conflicting statements about Leonard's health.
Paul George is targeting next week to make his debut with the Clippers. He has been sidelined since having surgery on both shoulders over the summer and wasn't able to participate in a five-on-five practice until today. George is expected to start playing either Wednesday in Houston or Thursday in New Orleans.
The Hawks lost one of their brightest young stars when John Collins was suspended 25 games for violating the league's anti-drug program. Collins contends he took a supplement that was "contaminated with an illegal component" and plans to appeal the suspension, which would keep him off the court until December 23.
Heat guard Dion Waiters, who has been at odds with the organization since a preseason argument with coach Erik Spoelstra, had a medical incident on a team flight Thursday night. Waiters reportedly passed out on the plane and suffered a seizure when he was awakened. He hasn't played yet this season.
Memphis center James Wiseman, considered a possibility for the top pick in the 2020 draft, was ruled ineligible by the NCAA, but played Friday after obtaining an "emergency temporary restraining order." The issue involves money that Tigers coach Penny Hardaway gave to Wiseman and his family to help them move to Memphis last year.
Here are 10 more noteworthy headlines from around the basketball world this week:
Photo courtesy of USA Today Sports Images.