Every week, Hoops Rumors takes a closer look at players who will be free agents or could become free agents next offseason. We examine if their stock is rising or falling due to performance and other factors. This week, we take a look at players from the Atlantic Division: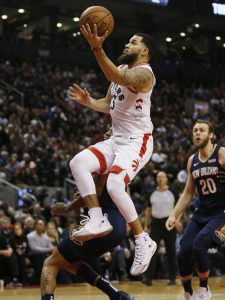 Fred VanVleet, Raptors, 25, SG (Up) – Signed to a two-year, $18MM deal in 2018
VanVleet was a key reserve in the Raptors' run to the championship. With Danny Green's departure, he's now a backcourt starter alongside Kyle Lowry. Green was mainly a floor spacer, while VanVleet has provided the added element of playmaking to help make up for the enormous loss of Kawhi Leonard. He's averaging a team-high 7.2 assists through the first five games while getting the line more often and delivering his usual excellent shooting from deep. An unrestricted free agent next summer, VanVleet will attract plenty of attention in a weak FA market.
James Ennis, Sixers, 29, SF (Up) – Signed to a two-year, $4MM deal in 2019
Ennis has bounced around the league, wearing six different uniforms since his rookie year in 2014/15. He saw action in 18 regular-season and 11 postseason games with Philadelphia after being acquired from the Rockets in a trade deadline swap. Thus far this season, Ennis has retained a rotation spot and helped around the boards (5.8 RPG in 14.0 MPG). Ennis has a $2.13MM player option after the season — if can remain a contributor on a contender, perhaps he'll feel comfortable opting out and testing the market for additional security.
Marcus Morris, Knicks, 30, SF (Down) – Signed to a one-year, $15MM deal in 2019
Morris caused a lot of consternation in the Spurs' organization by reneging on a two-year verbal agreement and then signing a one-year deal with New York, giving him more money this season and the freedom to explore the market again next year. In his first five games with the Knicks, Morris is the one doing the squawking. He's already picked up a league-high three technicals. He's also off to a slow shooting start (35%). It's hard to see Morris enhancing his value with New York but his expiring contract could be attractive to a contender looking for a frontcourt player.
Daniel Theis, Celtics, 27, PF (Up) – Signed to a two-year, $10MM deal in 2019
Theis' $5MM salary for next season isn't guaranteed until July 3rd and there will a number of factors playing into the Celtics' decision next summer, especially whether Gordon Hayward and Enes Kanter opt in. What Theis can control is being productive when he gets opportunities and making it a tougher decision for the front office. Theis needs to have more nights like he did Wednesday, when coach Brad Stevens used him for 28 minutes and he produced 11 points and nine rebounds. The 6'8" Theis will see quite a bit of time at the 'five' spot in downsized lineups.
Wilson Chandler, Nets, 32, SF (Down) – Signed to a one-year, $2.56MM deal in 2019
Chandler quietly latched on with the Nets on a veteran's minimum contract while they inked deals with high-profile free agents Kyrie Irving, Kevin Durant and DeAndre Jordan. Chandler's chances of carving out a role in coach Kenny Atkinson's rotation was squashed by a 25-game league suspension for a failed PED test. It's uncertain what Brooklyn plans are for Chandler once he becomes eligible on December 15. However, the suspension won't make it any easier for his agent to find his client work next summer.
Photo courtesy of USA Today Sports Images.