Every week, Hoops Rumors takes a closer look at players who will be free agents or could become free agents next offseason. We examine if their stock is rising or falling due to performance and other factors. This week, we take a look at players from the Central Division: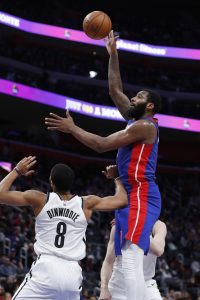 Andre Drummond, Pistons, 26, C (Up) – Signed to a five-year, $127.2MM deal in 2016
With Blake Griffin sidelined, Drummond has delivered a number of energetic and highly productive performances. He was averaging 21.9 points, an NBA-high 18.6 rebounds, 3.1 assists, 2.2 blocks and 1.7 steals heading into Friday's game against Indiana. He's also displaying greater maturity and reducing the unnecessary fouls, allowing him to stay on the court for longer stretches. In a very weak free agent market, Drummond could be the top prize unless Anthony Davis opts out. Drummond is expected to opt out of the final $28.8MM on his deal.
Denzel Valentine, Bulls, 25, SF (Down) – Signed to a four-year, $9.9MM deal in 2016
Valentine established himself as a rotation player during his second year in the league, appearing in 77 games (37 starts) while averaging 10.1 points, 5.1 rebounds and 3.2 assists with an above-average 3-point percentage (38.6). A major ankle injury ended Valentine's third season before it began. He has struggled thus far to reestablish himself and got sent to the G League this weekend to get some game action. The Bulls can make him a restricted free agent next summer by extending a $4.MM qualifying offer. He's unlikely to get that unless he reemerges as a second unit fixture.
Justin Holiday, Pacers, 30, SG (Up) – Signed to a one-year, $4.77MM deal in 2019
Holiday is one of those glue guys whose contributions go well beyond the stat sheet. He provides guidance to the team's younger players and has been the team's top wing defender in the early going. He can guard multiple positions, which has helped him earned steady minutes (22.1 per game). Holiday hasn't shot it well (32.7) and he'll likely lose playing time once Victor Oladipo finally returns from his quad injury. But Holiday might get another contract similar to the one Indiana handed him over the summer if he continues to be a steadying presence.
Sterling Brown, Bucks, 24, SG (Down) – Signed to a three-year, $3.8MM deal in 2017
The 2017 second-round pick averaged 17.8 minutes in 58 games during his second season in the league. Brown has been buried on the bench for the most part this season, racking up several DNP-Coach's Decisions. His only extended action was a 21-minute outing in a 32-point romp over Orlando at the beginning of the month. Brown's qualifying offer is just $2MM, so it wouldn't cost the Bucks much to make him a restricted free agent. However, there's no real clear path to steady playing time this season unless injuries strike.
John Henson, Cavaliers, 28, PF (Down) – Signed to a four-year, $48MM deal in 2016
Henson's biggest problem is one that always makes buyers beware — he can't stay on the court. Henson's 2018-19 season was essentially a washout due to a wrist injury. The Cavs, who acquired him last December after Henson underwent surgery, were hoping he could earn a spot in John Beilein's rotation this fall. Instead, he suffered groin and ankle injuries during the preseason. When he finally appeared in a regular-season game, he strained his right hamstring, which is expected to cost him 2-4 weeks. Henson will be an unrestricted free agent next summer and will have to settle for a major pay cut to stay in the league.
Photo courtesy of USA Today Sports Images.