Every week, Hoops Rumors takes a closer look at players who will be free agents or could become free agents next offseason. We examine if their stock is rising or falling due to performance and other factors. This week, we take a look at players from the Northwest Division: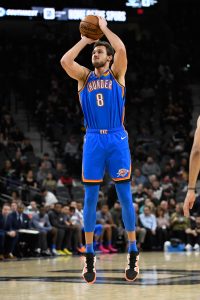 Danilo Gallinari, Thunder, 31, SF (Up) – Signed to a three-year, $64.7MM deal in 2017
Gallinari's biggest issue has been staying out of the trainer's room. His 68 regular-season appearances with the Clippers last season was his most since the 2012/13 season. But when he's healthy, he can fill it up. He's averaging 19.1 PPG and 5.1 RPG while shooting 41.3 percent from deep. When he gets to the free throw line, he's money (at least 90 percent since 2016/17). At 31, Gallinari still has a few more good years left and will get a hefty long-term offer next summer.
Mason Plumlee, Nuggets, 29, C (Up) – Signed to a three-year, $41MM deal in 2017
Plumlee doesn't stretch defenses like a majority of big men these days but he does enough to stay on the court. He's the team's fourth-leading rebounder despite averaging 16.6 MPG. He's also adept at finding teammates (2.3 APG). Plumlee's role figures to diminish if 2018 first-round Michael Porter Jr. starts to make a bigger impact but for now, Plumlee has a steady second-unit role on a contender. However, his annual salary will take a big dip next summer.
Jordan Bell, Timberwolves, 24, PF (Down) – Signed to a one-year, $1.62MM deal in 2019
The Timberwolves can make Bell a restricted free agent by extending a $2.0MM qualifying offer in June. Thus far, Bell hasn't done anything to make them want to keep the former Warriors big man around for another season. He's been glued to the bench through the first month of this season, playing a total of eight minutes since November 4th. Noah Vonleh and Gorgui Dieng are ahead of him in the rotation off the bench, so Bell's role won't expand unless injuries strike.
Kent Bazemore, Trail Blazers, 30, SG (Down) – Signed to a four-year, $70MM deal in 2016
Bazemore was acquired from the Hawks in exchange for another veteran swingman, Evan Turner. The trade has been a lose-lose situation for both teams. Neither has made an impact on their current teams. Bazemore is averaging single digits for the first time since the 2014/15 season despite steady playing time (23.6 MPG). He's shooting 34.6 percent from the field and his PER is 8.7. That's not exactly the way Bazemore wanted his walk year to unfold. He'll be settling for a sizable pay cut next summer.
Jeff Green, Jazz, 33, PF (Down) – Signed to a one-year, $2.56MM deal in 2019
Green is the quintessential journeyman, seemingly popping up on a different team every season. Normally, he puts up solid numbers wherever he lands. That hasn't the case through the first 14 games this season. Green has been in a shooting slump, making just 33 percent of his attempts. He shot over 47 percent for Cleveland and Washington the past two seasons, so a breakout might be imminent. If not, Green's rotation spot could be in jeopardy when Ed Davis' fractured leg heals.
Photo courtesy of USA Today Sports Images.