Over the course of the 2019/20 NBA season, up until February's trade deadline, we're keeping an eye on potential trade candidates from around the NBA, monitoring their value and exploring the likelihood that they'll be moved. Each of these looks at possible trade candidates focuses on a specific division, as we zero in on three players from that division.
All five Northwest teams entered the 2019/20 season with playoff aspirations, which could create an interesting situation by the trade deadline. Will several of these clubs be competing with one another for the top trade candidates on the market? Or will a couple Northwest teams fall short of their goals and pivot to selling as the deadline nears?
While it's too early to make any sweeping judgments on the five Northwest squads, all of whom have won between five and nine games, here are three players who could emerge as trade candidates as the season progresses:
Chris Paul, PG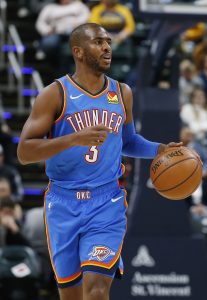 Oklahoma City Thunder
$38.5MM cap hit; increasing guaranteed cap hits through 2021/22

When the Thunder officially acquired Paul from Houston on July 16, many NBA observers assumed his stint in Oklahoma City would be short-lived. Four months later though, Paul is still on OKC's roster and has played pretty well in the early going, averaging 16.7 PPG, 5.3 APG, and .462/.426/.873 shooting through 13 games.
It's still possible that Paul will be part of two consecutive trades – no NBA teams have completed a deal since that July 16 blockbuster – but it has become increasingly obvious that his contract will be a major impediment. Even after this season, CP3 still has another two years and $85MM+ left on his deal, and the fact that it extends into the 2021/22 campaign is problematic. Given how star-studded the 2021 free agent class is expected to be, teams are reluctant to surrender significant cap space in that summer.
While the Heat have been linked to Paul most often, I'd be surprised if Miami and Oklahoma City strike a deal. A team without major free agent aspirations for 2021 would be a better fit, so perhaps a club like the Timberwolves ultimately emerges as a more serious suitor.
Jeff Teague, PG
Minnesota Timberwolves
$19MM cap hit; UFA in 2020
Speaking of the Timberwolves, they've made it clear that they're seeking a long-term answer at the point guard spot, which doesn't bode well for Teague's long-term future in Minnesota.
Another sign Teague's days with the Timberwolves may be numbered? When Gersson Rosas took over as the club's president of basketball operations last summer, nine Wolves were eligible for free agency and a 10th had a non-guaranteed contract. None of those 10 players returned. Rosas will be aggressive in shaping the sort of roster he wants in Minnesota, and so far it doesn't appear as if his vision overlaps much with that of the team's previous decision-makers.
That doesn't necessarily mean that Teague is a goner, but his $19MM expiring contract would make him an ideal salary-matching piece if Rosas gets aggressive at this season's trade deadline, since it'd be easier to move than the pricey multiyear contracts belonging to Gorgui Dieng and Andrew Wiggins.
Hassan Whiteside, C
Portland Trail Blazers
$27.1MM cap hit; UFA in 2020

At this point, the Trail Blazers still badly need Whiteside. Jusuf Nurkic remains sidelined for the foreseeable future, Zach Collins figures to miss most of the season with a shoulder injury, and Pau Gasol has yet to make his Portland debut.
However, Whiteside is essentially a temporary placeholder in the middle until Nurkic is able to return. Once Nurkic is healthy, he'll reclaim his starting spot, relegating Whiteside to a bench role. If Gasol is healthy and Collins is close to returning at that point, there will be even fewer minutes to go around in the frontcourt. And, of course, dissatisfaction with his playing time was what led Whiteside's stint in Miami to go south.
Whether or not Whiteside ends up on the trade block will hinge in large part on the health of those other three big men. If the Blazers are comfortable with their depth up front, Whiteside's $27MM+ expiring contract could be a useful trade chip as the club seeks much-needed help at the forward spot. But if Portland is still shorthanded at center when the deadline arrives, moving Whiteside may not be a viable option.
Photo courtesy of USA Today Sports Images.