Over the course of the 2019/20 NBA season, up until February's trade deadline, we're keeping an eye on potential trade candidates from around the NBA, monitoring their value and exploring the likelihood that they'll be moved. Each of these looks at possible trade candidates focuses on a specific division, as we zero in on three players from that division.
We're still five and a half weeks away from December 15, the date that most offseason signees become eligible to be dealt and the NBA's trade season unofficially kicks off. Still, it's hardly unprecedented for deals to be consummated in November. A year ago, two November trades were made, including the blockbuster that sent Jimmy Butler to Philadelphia.
With that in mind, it's not too early to start identifying and considering players who could emerge as trade candidates before this year's deadline. Here are three players who may fit that bill in the Pacific…
Bogdan Bogdanovic, SG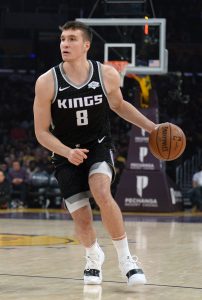 Sacramento Kings
$8.53MM cap hit; RFA in 2020

As we relayed last week, one general manager told Sean Deveney of Heavy.com that the Kings aren't currently fielding trade offers for Bogdanovic, but speculated that the team might eventually have to consider doing so. Harrison Barnes and Buddy Hield signed lucrative long-term deals with the Kings this summer, and De'Aaron Fox and Marvin Bagley figure to eventually receive similar – or pricier – extensions, creating some uncertainty about whether the team can afford to retain Bogdanovic too.
Although he's off to a slow start this season, with a .314 FG% through seven games, Bogdanovic would appeal to a team seeking a wing who can shoot and would certainly have positive trade value. The only concern might be his upcoming restricted free agency.
There aren't many teams projected to have significant cap space in 2020, but if one of those rebuilding clubs with room is eyeing Bogdanovic, a club that trades for him now might be forced to make a tough decision on an expensive offer sheet in July.
Alec Burks, G
Golden State Warriors
$1.62MM cap hit (minimum salary); UFA in 2020
If the Warriors bottom out this season in the wake of major injuries to Stephen Curry and Klay Thompson, their focus will be on developing young prospects. In other words, they probably won't prioritize finding playing time for the veteran role players who signed one-year contracts with the team in the summer hoping to play for a contender.
In an episode of the Hoop Collective podcast earlier this week, ESPN's Brian Windhorst speculated that the Warriors could be active before the trade deadline, jettisoning some of those veteran role players. As Mike Moffitt of SFGate.com writes, Windhorst also identified Burks as the Golden State player who is perhaps the most likely to be traded.
Because the Warriors are hard-capped, they can't really take back any extra 2019/20 salary in any trade involving Burks, but they probably wouldn't have to. A team with interest in acquiring Burks – and an open roster spot – could take him on using the minimum salary exception without sending a player back to the Dubs.
DeMarcus Cousins, C
Los Angeles Lakers
$3.5MM cap hit; UFA in 2020
The Lakers haven't ruled out the possibility of Cousins returning in the postseason, so perhaps the team plans to keep him into the spring as he recovers from his torn ACL. Still, having suffered multiple major leg injuries in recent years, Cousins should be playing it very safe with his latest ailment, and I'd be surprised to see him back on the court before the 2020/21 season.
If the Lakers eventually reach the same conclusion, Cousins could make a good salary-matching piece in a modest deadline deal. Los Angeles doesn't have a lot of players who fit that bill, particularly since Kentavious Caldwell-Pope, JaVale McGee, and Rajon Rondo all have de facto no-trade clauses and likely wouldn't be eager to leave a contending team like the Lakers.
Cousins can't block a trade and is on an expiring contract, which could make him a useful trade chip even if the team acquiring him intends to simply waive him. Even without attaching him to another player, the Lakers could use his expiring salary to acquire a player earning up to $6.225MM in 2019/20.
Photo courtesy of USA Today Sports Images.