6:12pm: The move is official, the Trail Blazers announced on Twitter.
3:50pm: The Trail Blazers have released veteran big man Pau Gasol, tweets ESPN's Adrian Wojnarowski. Gasol himself announced the news on Instagram, suggesting he'll now be able to "focus all my energy on my rehabilitation."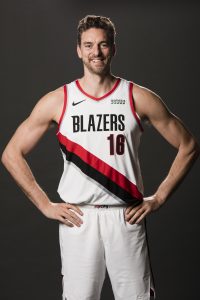 As Wojnarowski notes, Gasol underwent surgery on his left foot in the spring and has remained sidelined this fall as he attempts to rehab that injury. According to Woj, Gasol and the Blazers are working on a potential coaching role for the 39-year-old as he remains in Portland for rehab purposes.
Hopefully Gasol can get back to 100%, since it would be unfortunate to see him forced into retirement for health reasons. At age 39, the odds may be against a comeback, but even if he doesn't play in another NBA game, he has a Hall of Fame résumé, including four All-NBA nods, two championships, and three Olympic medals.
Portland is now back down to 14 players after signing Carmelo Anthony as its 15th man on Tuesday. The Blazers may keep that final roster spot open for now in order to avoid tacking more money onto their projected tax bill. However, the opening could come in handy if the team wants to add more frontcourt depth as Jusuf Nurkic and Zach Collins continue to recover from injuries of their own.
Interestingly, while Gasol was believed to be on a guaranteed minimum-salary contract, Wojnarowski says the Blazers "had protections" on that one-year deal. ESPN's Bobby Marks tweets that the agreement included an Exhibit 3 clause for a "prior injury exclusion." That clause protected the Blazers in the event that Gasol's left ankle and foot continued to cause problems, though it's unclear exactly how much the team will save.
Photo courtesy of USA Today Sports Images.