Every week, Hoops Rumors takes a closer look at players who will be free agents or could become free agents next offseason. We examine if their stock is rising or falling due to performance and other factors. This week, we take a look at players from the Southeast Division: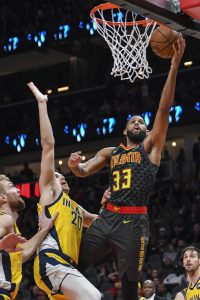 Allen Crabbe, Hawks, 27, SG (Down) – Signed to a four-year, $74.8MM deal in 2016
Remember when the Nets thought so highly of Crabbe they signed him to a giant offer sheet? And the Trail Blazers valued him so much they matched the offer sheet? And then Brooklyn wanted him so badly it traded for Crabbe the following summer? It all seems so silly now. The Nets were willing to give up two future first-rounders to get rid of Crabbe. Now in the final year of that odious contract, he's averaging 5.0 PPG and shooting 28.8% from 3-point range. Crabbe will probably be looking at veteran's minimum offers next season as he attempts to reboot his career.
Bismack Biyombo, Hornets, 27, C (Up) – Signed to a four-year, $72MM deal in 2016
Like Crabbe, Biyombo got silly money in the summer of 2016 after a solid playoff performance with Toronto. Orlando quickly got a case of buyer's remorse and he was eventually shipped to Charlotte in 2018. To his credit, Biyombo has worked his way into the rebuilding Hornets' rotation. He's posted double digits in points six times this month while averaging 8.0 RPG in 22.1 MPG. Traditional big men like Biyombo are being phased out of the league, so he won't attract a lot of interest. But he's shown he can be a rotation piece somewhere.
Meyers Leonard, Heat, 27, PF (Up) – Signed to a four-year, $41MM deal in 2016
Another player who cashed in during the summer of 2016, Leonard has never averaged more than 8.4 PPG or 5.1 RPG. Other than avid Heat fans, few people realize that Leonard has started 30 games for one of the Eastern Conference's best teams. He doesn't often finish games but he's endeared himself enough to coach Erik Spoelstra to keep his spot in the lineup. Leonard doesn't shoot a lot of threes but he makes them (48.3%). He's also making an impact on the boards (23 in the last two games). As a stretch four alone, Leonard will draw interest as an unrestricted free agent.
D.J. Augustin, Magic, 32, PG (Up) – Signed to a four-year, $29MM deal in 2016
Markelle Fultz is playing regularly but Augustin is still receiving steady playing time from coach Steve Clifford. Augustin threw in a two-point clunker against Chicago on Monday but in his previous four games he averaged 18.5 PPG and 5.3 APG. While Augustin's overall shooting numbers are down, he can still be a productive rotation player. It wouldn't be a surprise if Orlando brought back Augustin in a reserve role. If not, he still has enough left in the tank to be someone's backup floor leader.
Davis Bertans, Wizards, 27, SF (Up) – Signed to a two-year, $14.5MM deal in 2018
Bertans was enjoying a breakout season until he was sidelined recently by a quad injury. Bertans was averaging 15.4 PPG and 4.9 RPG in 30.0 MPG while mostly coming off the bench for Washington. The Wizards have been feeding Bertans to ball beyond the arc and he's consistently delivered, averaging 43.4% from deep on a whopping 8.6 attempts per game. Bertans' prolific long range shooting is bound to get the unrestricted free agent some lucrative offers in this summer's weak free agent class.
Photo courtesy of USA Today Sports Images.