Over the course of the 2019/20 NBA season, up until February's trade deadline, we're keeping an eye on potential trade candidates from around the NBA, monitoring their value and exploring the likelihood that they'll be moved. Each of these looks at possible trade candidates focuses on a specific division, as we zero in on three players from that division.
We're just three days away from December 15, the date when more than 120 players who signed new contracts this past offseason will become trade-eligible. Generally, NBA teams don't suddenly complete a flurry of trades when the calendar turns to December 15, but it at least provides some hope that one of the leagues' longest ever trade droughts could come to an end soon.
After initially identifying three trade candidates from the Central last month, we're circling back to the division today to examine three more. Let's dive in…
Kevin Love, PF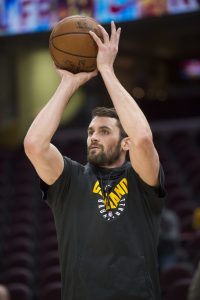 Cleveland Cavaliers
$28.9MM cap hit; $91.5MM in additional guaranteed salaries through 2022/23

As Jason Lloyd of The Athletic wrote this morning, Love has been the subject of trade rumors for years, but it feels a little different this time.
It seems likely that Love is one of the players who hasn't been particularly fond of John Beilein's coaching style. After all, it was just two months ago that the Cavaliers' power forward was talking about how much he wanted to remain in Cleveland. With the Cavs off to a 5-19 start, the latest reports are suggesting that Love would rather be traded to a contender.
There will be plenty of roadblocks in the way of a potential deal. Matching Love's cap hit of nearly $29MM will be a challenge for many teams. Even clubs that have the salaries necessary to acquire Love may not agree with the Cavs about his value — Lloyd suggested today that Cleveland wants a first-round pick in return, but that may only be realistic if the club is willing to take back some bad money.
Ersan Ilyasova, PF
Milwaukee Bucks
$7MM cap hit; $7MM non-guaranteed salary for 2020/21

The Bucks have opened the season by winning 22 of their first 25 games, including 16 in a row through Wednesday. If the team continues playing at this level, you could make a strong case that the best approach at the trade deadline would be standing pat.
If Milwaukee does look to upgrade its supporting cast though, Ilyasova looks like the most logical candidate to be moved in such a deal. His $7MM cap hit makes him a good salary-matching chip for mid-level contracts, and his non-guaranteed salary for next season would appeal to teams looking to create flexibility.
The 32-year-old also isn't such a crucial piece of the rotation that the Bucks would balk at giving him up. He's not a particularly strong defender or play-maker, so his value comes from his ability to stretch the floor, but he has only made 33.3% of his three-point attempts, his lowest mark since 2013/14, and his 16.3 minutes per game are the fewest he has averaged since 2006/07.
It's hard to come up with an ideal trade scenario for the Bucks, so Ilyasova is probably more likely to stay put than to change teams within the next couple months. But it won't be a surprise if he's dangled in a few trade discussions before February 6.
Reggie Jackson, PG
Detroit Pistons
$18.1MM cap hit; UFA in 2020

If the Pistons fall out of playoff contention in the Eastern Conference, some bigger names could become trade candidates. In that scenario, potential deals involving Andre Drummond and Blake Griffin shouldn't be entirely ruled out.
But considering the 11-13 Magic currently hold the No. 8 spot in the East, falling out of the playoff race is unlikely unless the Pistons totally bottom out. As such, Jackson is the more logical trade candidate than the team's two stars, since his expiring $18MM+ salary could be used to build a package for another impact player.
Unfortunately, it doesn't seem as if there will be many impact players available that will fit the Pistons' roster. But exploring a trade for a player like D'Angelo Russell using Jackson's contract as the primary salary-matching piece might make sense if Detroit – which has all its future first-round picks available – remains in win-now mode.
Revisit the rest of our 2019/20 Trade Candidate series right here.
Photo courtesy of USA Today Sports Images.