As we noted in our glossary entry on veteran contract extensions, rookie scale extensions have historically been the most common form of contract extension in the NBA. However, the league's latest Collective Bargaining Agreement loosened the rules on eligibility for veteran extensions and made them a little more financially advantageous for players who don't expect mega-deals.
As a result, we've seen a bump in veteran contract extensions in recent seasons. So far in the 2019/20 league year, nine players have signed them, matching the number of players who signed rookie scale extensions.
[RELATED: 2019/20 NBA Contract Extension Tracker]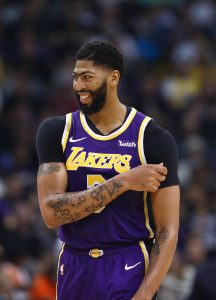 For a star like Anthony Davis, it still makes sense to wait until free agency to sign a new contract — the biggest raise he can receive on an extension would still be less than the maximum contract he'd be eligible to earn on the open market. The maximum starting salary a player like Davis can receive in a veteran extension is up to 120% of his current salary.
A player on a more modest contract can receive a maximum starting salary worth up to 120% of the NBA's estimated average salary on an extension, assuming that amount is greater than 120% of his current salary. For this season, 120% of the estimated average salary would work out to a $11.47MM salary in the first year of a contract extension. A player who signs an extension that fits that bill could get up to four years and $51.39MM. Bogdan Bogdanovic and Dillon Brooks are among the players who are eligible for that sort of deal.
Now that the regular season is in full swing, the number of veterans eligible for contract extensions has declined, since players with more than one year left on their contracts aren't permitted to ink an in-season extension. But there are still a number of veterans in the final year of their respective contracts who remain eligible for extensions right up until June 30, the last day of the current league year.
Listed below are the players who meet the criteria for a veteran extension. Players who were recently traded can be extended, but they have to wait for six months after the trade to sign a contract longer than three total years (including the current season) with a first-year raise exceeding 5%. If a player below is noted as having "limited" eligibility until a certain date, that's why. Once six months pass, those players are eligible to sign an extension of up to five total years (including the current season) with a 20% first-year raise.
Additionally, extension-eligible players with a player or team option for 2020/21 would have to eliminate that option year as part of an extension agreement in order to meet the necessary criteria.
Here's the full list of veterans currently eligible for contract extensions:
Atlanta Hawks
Boston Celtics
Brooklyn Nets
Charlotte Hornets
Chicago Bulls
Otto Porter

Note: 2020/21 player option must be declined.
Cleveland Cavaliers
Dallas Mavericks
Denver Nuggets
Detroit Pistons
Golden State Warriors
Houston Rockets
Indiana Pacers
Los Angeles Clippers
Los Angeles Lakers
Memphis Grizzlies
Miami Heat
Milwaukee Bucks
Minnesota Timberwolves
New Orleans Pelicans
New York Knicks
Oklahoma City Thunder
Abdel Nader

Note: 2020/21 team option must be declined.
Orlando Magic
Philadelphia 76ers
Phoenix Suns
Portland Trail Blazers
Sacramento Kings
San Antonio Spurs
Toronto Raptors
Utah Jazz
Washington Wizards
Information from Basketball Insiders was used in the creation of this post.
Photos courtesy of USA Today Sports Images.