When David Aldridge of The Athletic polled NBA executives in November on Andre Iguodala's eventual landing spot, the responses were nearly unanimous. Nearly every exec who spoke to Aldridge predicted that Iguodala would ultimately end up with the Lakers.
However, with the Grizzlies standing firm on their stance that they intend to trade Iguodala rather than buy him out, it's hard to envision a scenario in which those execs will be proven right.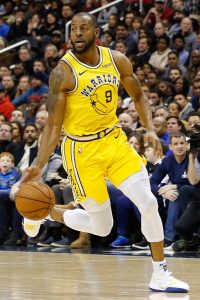 As we explain in our glossary entry on the NBA's trade rules, in order to take back Iguodala's $17,185,185 salary, the Lakers would have to send out $12,185,185 in outgoing salary. The Lakers have three players earning more than that amount on their own: LeBron James, Anthony Davis, and Danny Green. It seems safe to assume none of those players will be included in a deal for Iguodala.
Kentavious Caldwell-Pope's $8.09MM cap charge could be a good starting point in putting together a package for Iguodala, but Caldwell-Pope is one of three Lakers who has a de facto no-trade clause after re-signing with the team this past offseason — JaVale McGee and Rajon Rondo are the others. There's probably no good reason for any of those players to approve a trade from the 24-4 Lakers to the 10-18 Grizzlies.
So what's left? Even if the Lakers were to package all their next-biggest contracts, including Avery Bradley ($4.77MM), DeMarcus Cousins ($3.5MM), and Quinn Cook ($3MM), they'd have to include at least four players just to reach the threshold to take back Iguodala's salary. That would mean either asking the Grizzlies to waive three players or getting other teams involved, neither of which presents a particularly realistic path to a deal.
The Lakers are perhaps the most striking example of how a lack of expendable contracts in the mid-level range ($8-12MM) may limit teams' trade options this winter. But they're hardly the only example.
Consider the Celtics. They only have three players earning between $5MM and $32.7MM in 2019/20. Those three players are Jayson Tatum, Jaylen Brown, and Marcus Smart, and I wouldn't expect the team to seriously consider moving any of them. For the C's, acquiring a player in the $15-20MM range would mean packaging together at least three players earning $5MM or less, and three-for-one or four-for-one deals aren't easy to pull off during the season.
The Sixers are in this group too. They have just two players with '19/20 cap hits between $4.77MM and $27.5MM — Josh Richardson ($10.12MM) and Ben Simmons ($8.11MM). Trading Simmons probably isn't a consideration anyway, but doing so would be virtually impossible due to the poison pill provision attached to his newly-signed extension. If Philadelphia wants to put together a trade package without including Richardson, it would likely mean starting with Mike Scott ($4.77MM) and Zhaire Smith ($3.06MM), which will limit the team's ability to take on a bigger contract.
The Rockets had this quandary in mind when they signed Nene to an incentive-packed contract that bumped his cap hit to $10MM, despite a guarantee of just $2.56MM. The team essentially tried to create an expendable mid-level trade chip out of thin air, but the NBA thwarted the plan, ruling that Nene would only count for $2.56MM for matching purposes. As a result, Houston's only contracts worth more than $3.54MM belong to the team's five most important players, and one of them (Eric Gordon at $14.06MM) can't be traded at all this season because he recently signed an extension.
The Clippers have one potentially expendable mid-level deal, but Maurice Harkless ($11.01MM) has been a pretty effective rotation player for the team this season, so L.A. would only move him for a clear upgrade. The Jazz and Raptors each have one contract in the mid-level range that could be used to build a trade package, but Dante Exum ($9.6MM) and Norman Powell ($10.12MM) both have multiple years left on their deals, complicating their value.
For certain trade targets, this dearth of expendable mid-level contracts among contenders won't matter — there's a viable path to match the salary of a player like Jae Crowder ($7.82MM) or even Robert Covington ($11.3MM) with some of those smaller deals.
Still, the salary-matching factor is one that shouldn't be overlooked when it comes to pricier trade candidates like Iguodala or Danilo Gallinari ($22.62MM). Every team except the Hawks is currently over the cap, so every team with title aspirations is subject to those salary-matching rules, which are even more restrictive on taxpaying teams.
At this point, contenders with movable contracts in the $10-15MM range, such as the Mavericks (Courtney Lee, $12.76MM), Heat (multiple players), and Nuggets (multiple players) appear better positioned to make certain deals to improve their rosters at the deadline.
Photo courtesy of USA Today Sports Images.