Every week, Hoops Rumors takes a closer look at players who will be free agents or could become free agents next offseason. We examine if their stock is rising or falling due to performance and other factors. This week, we take a look at players from the Northwest Division: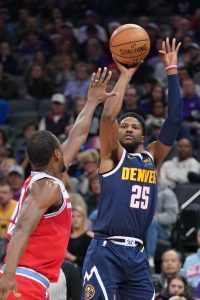 Malik Beasley, Nuggets, 23, PG (Down) – Signed to a four-year, $7.8MM deal in 2016
Beasley reportedly declined a three-year extension offer worth at least $30MM prior to the season. Oops. Beasley's playing time has significantly dropped this season and so has his production. He's averaging 6.9 PPG and just 1.0 APG in 16.0 MPG. Beasley has been a bigger factor on offense recently, reaching double figures in four of the last six appearances, but he never left the bench against Indiana on Thursday. The prime trade candidate probably needs a change of scenery to restore his value. Denver can make him a restricted free agent but that's an increasingly unlikely scenario.
Noah Vonleh, Timberwolves, 24, PF (Down) – Signed to a one-year, $2MM deal in 2019
Vonleh entices NBA teams with his physique and potential but no one has been able to tap into it. At age 24, the 2014 lottery pick has already played for five teams. The way things are going in Minnesota, he'll probably be looking for a sixth team to take a chance on him. He'll get you some rebounds but defenses don't have to respect him on the offensive end. He hasn't developed a three-point shot, which is a no-no for a young 'four man' these days. Injuries led to increased playing time for Vonleh the past two weeks before he sat out Thursday' game with a back injury. It's unlikely he'll remain in the rotation when the T-Wolves get healthier.
Nerlens Noel, Thunder, 25, PF (Up) – Signed to a one-year, $2MM deal in 2019
Seems like Noel has been around for quite awhile but he's still just 25. He'll never live up to his draft status (No. 6 pick of 2013) but in shorter bursts, Noel can be quite effective. Noel has been a force off the bench at both ends of the floor, averaging 7.8 PPG, 5.1 RPG, 1.2 APG, 1.4 BPG and 1.1 SPG in 18.7 MPG. He's even making his free throws this season (79.7%). Noel knows his strengths and finds ways to contribute. He can have a long career in the league as a backup big.
Hassan Whiteside, Trail Blazers, 30, C (Up) – Signed to a four-year, $98.4MM deal in 2016
Going strictly by the numbers, Whiteside is having a bounce-back season after a couple of uneasy years with Miami. During 14 games in December, Whiteside posted a stat line of 16.2 PPG on 63.2% shooting, 15.1 RPG, 1.8 APG and 3.4 BPG in 31.6 MPG. The flip side is that the Blazers have nosedived in the standings with Whiteside as their starting center. As a traditional post man who doesn't shoot threes, Whiteside will have to take a significant pay cut next season. But his rebounding and shot-blocking prowess can't be totally ignored.
Jordan Clarkson, Jazz, 27, SG (Up) – Signed to a four-year, $50MM deal in 2016
The NBA went five-plus months without a trade until Utah, seeking more bench scoring, acquired Clarkson from Cleveland for Dante Exum and two second-round picks. Utah is thrilled with the early returns. In his first four games in a Jazz uniform, Clarkson has averaged 15.0 PPG in 23.8 MPG. That lifted Utah to victories over Portland, the Los Angeles Clippers and Detroit. Represented by super agent Rich Paul, Clarkson should draw plenty of interest as teams look to fortify their benches in a weak market.
Photo courtesy of USA Today Sports Images.